Here are some more nifty pictures of the
Elissa
, sailing about in the Gulf of Mexico.
Elissa in the Gulf of Mexico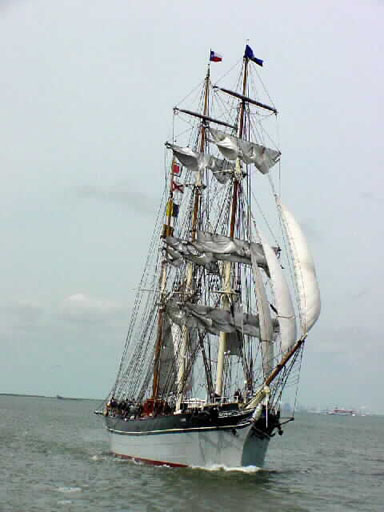 Elissa in the Gulf of Mexico
Photos pilfered from Terry and Sue Canup
She's 205 feet long from bowspirt to stern, 152 long at the deck, and 141 feet at the waterline. Her deep-loaded displacement is 976 tons. She's a general cargo ship, neither a bulk freighter nor a fast luxury carrier, with a beam of 28 feet. She carries no guns, but pirates should be respectful of the company she keeps. Back when she was built, her buddies would have been British ships of the line.
These days, well... see the first photo in this thread.

She's also an iron maiden. That is, her hull is riveted iron, rather unimpressed by cannonballs from black powder cannon. That's also probably how she came to be a working ship today. They had to patch some rusty spot but her hull and frame are almost entirely original. The wooden parts--long lost by the time she was found slutting about in Greece--were rebuilt using 19th century techniques so although they are new, they are true to the original.
Her one great anachronism is her 450-hp V-12 diesel engine. There was a terrible controversey about that when the Galveston Historical Foundation wanted to install in, in 1986. Purists didn't want
Elissa
to have a modern powerplant; she had sailed for four years with no power at all. But the Coast Guard didn't want a windjammer warping into Galveston Harbor with no backup power, and the foundation that owns her didn't want her to risk becoming becalmed when she's out at sea.