| | | |
| --- | --- | --- |
| | :story: For Thou Art With Me | |
Greg


Anja's Sock Puppet



Joined: 30 Aug 2004
Posts: 6672
Location: Happy Valley
Posted: Tue Oct 17, 2006 7:34 pm

| | | |
| --- | --- | --- |
| | | |
For Thou Art With Me
Chapter 1: Challenges
Background
In the discussions about the
Aspiration Poll
, where folks are speculating about which flavor of sims wants to woohoo the most often, I posed a test to see if it would be possible for two Romance sims to be happy if they were married and determined to keep their monogamous commitment. I was also wondering if their behavior and wants would change in that situation.
For me this was even more of a challenge because I have heretofore expressed considerable disdain for the way that Maxis programmed the so-called Romance aspiration, thinking that there was nothing
romantic
about the way the "Romance" sims behave in the game. I thought it was a very ill-conceived moniker for what amounts to the behavior of sociopathic sexual predators. The question in my mind was whether I could create "Romance" characters for whom I might feel some degree of sympathy. Would it be possible to create such sims whose lives would unfold as
truly
romantic characters?
Only time and game play will tell, but having started the experiment, I thought it would be fun to share the whole story here. So, without further ado, please allow me to introduce...
The Devoteds
The Devoteds
Donovan, Daniella, and their teenage daughter Emma Lee
Even back when they were in high school, and perhaps even back into grade school, Donovan and Daniella were an item. Their friends learned that it was pointless to invite either of them individually to an outing of any sort--no matter what the venue, if you invited one, you invariably got
D&D
.*
People often say that one should not marry one's high-school sweetheart because at that age humans are a bundle of pubescent passions, quite ill-prepared to make a decision about a life's mate. Donny and Danni have a rather different thought about that--they grew up together as constant companions, their personalities formed by nearly identical experiences and stresses.
They have always been very open toward each other because they never learned anything different. Neither of them had parents who were the sort to drive their children to defensive reclusiveness through constant ridicule or irrational punishments. To be sure, the trevails of life taught them to be more guarded in their dealings with others, but toward each other, no subject was taboo and anything could be discussed without fear.
In short, Donovan and Daniella were truly in love with each other, and had been since before they were able to understand what that might mean.
----------
*It maybe have been more than coincidence that playing

Dungeons & Dragons

was among their favorite passtimes, a passion which they carried on into their adult life and, along with other interests and values, inflicted upon their daughter.

_________________
Greg
Webmonster
Moon Sims ~ SimsHost ~ Ultimate Sims List
| | | |
| --- | --- | --- |
| | | |
Greg


Anja's Sock Puppet



Joined: 30 Aug 2004
Posts: 6672
Location: Happy Valley
Posted: Tue Oct 17, 2006 8:23 pm

| | | |
| --- | --- | --- |
| | | |
For Thou Art With Me
Chapter 2: Commitment
There is much more to making and keeping a monogamous commitment than simply avoiding the bludgeons of jealousy, but jealousy does indeed play a critical role in it. Donovan and Daniella came to grips with it when they were teens and have never encountered reason to change how they feel about it.
For them, it came up the first time in their early teen years, when one of the girls at the high school started making eyes at Donovan. That brought Daniella's territorial instincts to a slow boil, and of course, being
D&D
, they discussed it openly. They were both quite ardent science fiction fans, so they analyzed the situation in terms of the familiar writings of some of their favorite authors.
They were sitting together on the sofa in the living room at Daniella's home. After enjoying their company for dinner, her parents had retired to the family room to give the young lovers some privacy.
"But Theodore Sturgeon argued that jealousy is not a legitimate emotion," Daniella said. She knew how she felt, but wasn't sure she had a right to feel that way. "He says it amounts to possessiveness, which means ownership, and hence slavery."
"Bullfeathers," Donovan said. "Pure unbridled amphigory. To deny that humans are a jealous species is a direct road to insanity. It's like arguing that water is not wet. Jealousy may well be the strongest and most pervasive of human emotions. People have been trying to make it go away for all of recorded history, but jealousy abides. It is the central theme in classical Greek tragedies. It was the cause of wars that destroyed generations, nations, and even empires. No amount of rationalization will diminish it."
"Some people seem to feel it more strongly than others," Daniella said. "I wonder if I could learn--"
"Danni, with me, all you need to learn is you don't need to fear that I will do something that will make you feel jealous. I will confess, though, that I inside I tend to feel a lot of affection for other girls--"
"I know that, and it doesn't bother me if I don't have to worry about you actually
doing
something. I really kind of like the fact that you feel that way. It makes me feel even more special. Heinlein said that
to truly love a woman, a man must love all women a little
."
"Heinlein might have been right on that score," Donovan said, "though when it came to jealousy, he was as foolish as Sturgeon. Both of them were men who suffered a lot of misery in their personal lives because they attempted to rationalize away jealousy. I feel as strongly about it as they did, and as much as you do, but I'll never try to delude mysel by rationalizing it away."
"Donny..."
"Yes, my love?"
"I'll never do anything to make you feel jealous, either. I promise."
Donovan sighed. "Thank you, Danni. That means a lot to me."
"I know. I felt it when you said it. Does this mean we're going steady?"
"I think it does."
"Is this the part where we kiss?"
"Yes, it is."
A while later...
"Oh
wow!
That was a
plus four
6D20 kind of experience!"
"It sure was! Let's roll some more dice! For this, there is no saving throw!"
Their new home at the Meat Market would provide new challenges to the their commitment.
Emma Lee inherited her mother's figure, and then some.
And so it was that Donovan and Daniella formally bonded. Throughout the increasingly lax morals of high school and even the debaucheries of college life, despite the constant media barrage to the contrary, they remained faithful to their comitment and to each other.
They married right after college, and Daniella got pregnant during their honeymoon. The courses of Nature took over and along came an exquisitely beautiful baby girl whom they named Emma Lee.
Just as Emma was ready to go to high school, the company that Donovan was working for succombed to rising taxes and fell into bankruptcy. There was no choice; with no prospects in a declining town and with no entrepreneurial skills of their own, they had to move out to another state to find employment.
By that time, Donovan and Daniella were well aware that they both were what their friends called
hopelessly romantic
. They had heard that many like-minded people lived in the peculiar little harborside village they called the
Meat Market
, so when Donovan got wind of job openings there, they decided to take their chances down near the docks.
At that time, they had no idea what a incredible chances they were taking with their happy lives.

_________________
Greg
Webmonster
Moon Sims ~ SimsHost ~ Ultimate Sims List
| | | |
| --- | --- | --- |
| | | |
Greg


Anja's Sock Puppet



Joined: 30 Aug 2004
Posts: 6672
Location: Happy Valley
Posted: Tue Oct 17, 2006 9:51 pm

| | | |
| --- | --- | --- |
| | | |
For Thou Art With Me
Chapter 3: An Interesting Neighbor
When they first arrived in the Meat Market, Donovan and Daniella both wanted to find a bed where they could spend some happy time together. They were quite specific in that want about what they wanted to do and who they wanted to do it with. They also wanted to talk to their daughter and play with her, as one would expect of someone with strong family values.
Buying the things they would need to outfit their house boosted their mood considerably, perhaps because each purchase brought them closer to their goal of finding release for the passions built up during the long journey to the Meat Market. Sharing motel rooms withh their daughter did not provide much opportunity for romantic interludes.
While the house was still under constrution, a neighbor stopped by.
It's all right to visit with the nun; just don't get into the habit.
It was Sister Maria Theresa, proselytizing for her quite unique church. He heard a voice speaking in the depths of his mind, barely a faint murmur, "Oh, Donovan, beware! Sister Maria Theresa is
not
what she seems to be!"
It was just a feeling, but it was enough for Donovan to be a bit guarded in his otherwise friendly manner toward the lady of the cloth. After chatting with her for a bit, he turned Sister Maria over to his wife and invested his time in his daughter.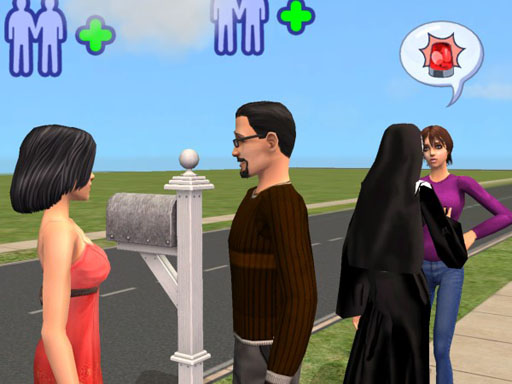 Daniella picked up the local gossip from Sister Maria Theresa.
They had hoped to meet someone from the community, and the good sister filled the bill for them. They wanted to become friends with their newly met neighbor, but considerably more important to them was to get Emma Lee into a good school and that she excel in her studies.
Daniella received quite an earful about the true nature of the local community of the Meat Market from Sister Maria. It wasn't quite what she was expecting, and she was not pleased. Nevertheless, all she had to do was to look into Donovan's eyes and everything felt all right again.
"I only have eyes for you..."
Despite becoming quite close to the very attractive and subtly seductive nun, neither Donovan nor Daniella felt much interest in her beyond simple friendship. Their thoughts were ones of domestic bliss. Preferably in the bedroom. With each other. Very soon.
They weren't at all interested in joining her church--it was simultaenously far too orthodox and way too
unorthodox
for their tastes. The simple faith of the Campbellites was more to their liking, so if need by they would spend their Sundays driving all the way down to Happy Valley to Reverend Olis's church. Well, at least they would if the mountain passes were clear. And if they didn't have to work. And if they got up early enough. And it wasn't raining too hard. And gas prices didn't get too high. And the car had good tires. And traffic wasn't too bad. And there were no pressing engagements on the golf course.

_________________
Greg
Webmonster
Moon Sims ~ SimsHost ~ Ultimate Sims List
| | | |
| --- | --- | --- |
| | | |
Greg


Anja's Sock Puppet



Joined: 30 Aug 2004
Posts: 6672
Location: Happy Valley
Posted: Tue Oct 17, 2006 10:29 pm

| | | |
| --- | --- | --- |
| | | |
For Thou Art With Me
Chapter 4: Labels
Daniella had learned from Sister Maria Theresa that the Meat Market wasn't much like what they had in mind when they heard about it. Rather than a haven for hopeless romantics, the local populace seemed to consist almost entirely of sexual predators!
It was too late to back out at that point. They had sunk their savings into the move and the new house. Donovan had landed a job--not much of one but at least it was a real job--and found that they also had an opening for Daniella. They realized they were stuck in the Meat Market at least until they had amassed sufficient fortune to pay down the mortgage on the house enough to sell it.
She decided that the best way to cope with the situation to make sure that everyone in town knew that they were a monogamous couple. Blunt, overt advertising of that fact seemed to be the solution, and it had to be obvious enough that they didn't find themselves in awkward situations.
Donovan intimated to her that he had developed odd feelings about Sister Maria. He found that he wanted to dance with her, and even give her a backrub!
Daniella dimpled at him and said, "That's all right, honey. You can play with the nun if you want to, as long as it's just that. I don't care where you get your appetite as long as you eat at home! But this town is not what we expected! I'm going to pin a warning notice on you, and an even more emphatic one on me!"
"Huh?"
"Just wait. You'll like it. I promise!"
By the time some more neighbors dropped by the welcome them to the neighborhood, Daniella was prepared.
Lunch With the Neighbors
Clockwise around the table:

Donovan Devoted, Constance Chatterley, Daniella Devoted, Emma Lee Devoted, Jed Madrigal, and Sister Maria Theresa.
Jed's wife, Dalia Madrigal, took the picture.
People didn't seem to have much respect for wedding rings in this burg, so Daniella made the point more emphatic by fastening a large wedding-ring pin to both her sweater and Donovan's. From what Sister Maria had said, even that might not be enough to ward off the more wolfish guys in town, but a quick session with her embroidery machine added a very clear message to her sweater.
"I think they'll get the message even if they're ogling my boobs!"
But that was only the start. Daniella was nervous about being approached from behind. She just didn't want to have to deal with it. After just a few minutes with Photoshop to produce iron-on transfers, she assured that her departure view would present guys with a completely unequivocal and emphatic message!
This was no time for subtlety.
With that level of warning, Daniella figured that she would be fully justified if a situation arose where some guy got a case of roaming hands, only to withdraw a bloody stump!
----------
In reality, I modifed their costumes to remind

me

who they are. There are too many toys in the Meat Market that enable sims to autonomously do things that Donovan and Daniella would not do. There are so many characters in that town that I often lose track of who's who, too. Now if they show up at another lot or downtown, I'll be reminded to watch them carefully and intervene before the characters get messed up by out-of-character behavior. It does make for more suspenseful game play. Every time someone goes down t othe Wreck Beach Pavilion I find myself nervously watching to make sure that none of the Devoteds has sneaked onto the set. So far, only Emma Lee has done that; I just sent her off to have a good time in the swimming pool where she could stay out of trouble and blocked access to the main pavilion to teens as well as to children.

I tried to fit a picture of Daniella on the back of Donovan's sweater but the UVmap is messed up. It stretches the image all out of shape, with hideous results. So Donovan will have to settle for just having a pin.

_________________
Greg
Webmonster
Moon Sims ~ SimsHost ~ Ultimate Sims List
| | | |
| --- | --- | --- |
| | | |
Greg


Anja's Sock Puppet



Joined: 30 Aug 2004
Posts: 6672
Location: Happy Valley
Posted: Tue Oct 17, 2006 11:09 pm

| | | |
| --- | --- | --- |
| | | |
For Thou Art With Me
Chapter 5: Temptations
There certainly was no shortage of temptations in the Meat Market. On the first day in town, yet another of them appeared at the Devoteds' house, in the guise of the notorious Paige Warwick.
Can Donovan keep his monogamous commitment when faced with

this?
Left to right: Dalia Madrigal, Paige Warwick, and Constance Chatterley
Photo credit: Emma Lee Devoted
Daniella didn't find Constance Chatterley to be much of a threat, at least not directly. She seemed to be entirely interested in coming on to the girls! And she also was polite enough not to even hint at challenging all the warning labels that Daniella sported.
Paige and Dalia were a different story. Both of them made it quite clear that they were willing and eager to do anything with anybody--male, female, or even the fire plug down the block! The fact that she was married and that her husband was visiting at the same time didn't slow down Dalia a bit. And as for Paige, she didn't seem to own either a conscience or a pair of underpants!
Nevertheless, they both did own significant survival instincts and a desire to avoid unnecessary strife in their lives, so although they both developed strong desires toward both her and Donovan, they took Daniella's warning messages quite seriously.
Dalia's husband, Jed Madrigal, was no different. He wanted a lot more from Daniella, but settled for a pillow fight.
Jed Madrigal settled for a pillow fight.
To Daniella's surprise* she found that she had a notion that she'd liked to get closer to Jed. She wanted to fall in love with him, in fact. Later when discussing this with Donovan, she learned that he had the same sort of feelings toward Constance Chatterley and (of all people) Sister Maria Theresa!
These pillow-talk confessions turned into a giggling session. They chalked it up to their romantic nature and elected to just forget about it. If they could.
----------
*And much to my disappointment. I was working on a theory that if "Romance" sims never indulged in extramarital affairs, they would not develop these silly wants to fall in love with everybody and everything they meet. They disproved that theory on their first day. Darn it. However, that ain't gonna happen, so the challenge is to see if I can keep them happy despite their unsatisfied wants. Perhaps a significant part of game play is to learn to say "no." That is, to keep the sims happy even if you don't give them everything they want.

Now this same problem extends to every sim they've met because invariably all these Romance sims want either Daniella or Donovan. Sometimes both!



Disclaimer:

Some of the sims in this story might be recognizable as others' creations. This is also the neighborhood where I try out any new sims I've downloaded. I don't much like most of the sims in this town, so it's not such a disappointment if I have to purge them from my game. Nevertheless, it's quite possible that someone might see a sim in the Meat Market exhibiting behavior that the original creator never would have intended. That's one of the risks you take when you make a sim available for download; and besides, their names have been changed to protect the guilty.

I don't think that is true of any of the sims in this story. Except for Sister Maria's Theresa's habit, all the clothes seen here were either my own creations or stock stuff from the game. Most of their hair comes from other fans. Donovan and Daniella in particular were purely random dice rolls in the CAS screen, with the only changes being using my own custom skin tone and then of course the modifications to their outfits. Emma Lee is 100% their genetic child, created with a random roll in the CAS screen.

I do expect that eventually others will appear in stories of the Meat Market who more closely resemble what their original creators intended, and many of them are wearing outfits created by other fans.

_________________
Greg
Webmonster
Moon Sims ~ SimsHost ~ Ultimate Sims List
| | | |
| --- | --- | --- |
| | | |
Greg


Anja's Sock Puppet



Joined: 30 Aug 2004
Posts: 6672
Location: Happy Valley
Posted: Wed Oct 18, 2006 12:26 am

| | | |
| --- | --- | --- |
| | | |
For Thou Art With Me
Chapter 6: In the Paths of Righteousness
The following day, two more visitors learned that the only action they were likely to get at the Devoteds' house was a pillow fight.
Illustra Naebender and Fancy Madrigal
Fancy is the daughter of Jed and Dalia Madrigal, who visited yesterday.
The distractions notwithstanding, Emma Lee buckled down and asked her dad to help with her homework. That was enough social interaction for Emma that day, so she had her fun with her easel before going to bed.
By Wednesday, Donovan and Daniella had both landed a job at the gas station. The promotion came just in time because they were almost to the point that they would have to start selling things so that they could pay the bills.
Even more important, though they weren't aware of it at the time, was that their excitement over getting higher-paying jobs completely washed all thoughts of falling in love with their neighors right out of their minds! That might have come at an opportune time, too, because yet another great temptation was about to invade their happy home.
Nothing subtle about Persephone Greco!
The vivacious and voluptuous Persephone Greco followed Donovan home from work that day. Any hopes she might have had regarding a liaison with Donovan were dispelled when she learned the farthest he was willing to go with her was a rousing game of kicky bag. Daniella was confident enough about her husband's fidelity that she could be amused by the dress that Persephone was almost wearing, even though she was decidedly not amused to meet yet another married woman who had only married so that her children would have their father's name. Donovan seemed content to just admire Persphone's decorative nature; he hasn't developed any further interest in her at all.
For her part, Daniella enjoyed getting to know the very well-behaved Brandi LeTourneau.
----------
They still wanted to fall in love with their neighbors but all three of the Devoted family members were gold or platinum the whole time.

Almost every sim in the Meat Market is on the Slacker track so it's very likely that they will bring friends home from work.

_________________
Greg
Webmonster
Moon Sims ~ SimsHost ~ Ultimate Sims List
| | | |
| --- | --- | --- |
| | | |
Greg


Anja's Sock Puppet



Joined: 30 Aug 2004
Posts: 6672
Location: Happy Valley
Posted: Wed Oct 18, 2006 1:27 am

| | | |
| --- | --- | --- |
| | | |
For Thou Art With Me
Chapter 7: Many Waters Cannot Quench Love
On Thursday morning, Emma Lee wanted to have some fun before school. She had spent most of the evening boning up on her Mechanical skills so that she could get a promotion, and she really needed to blow off some steam.
After helping her mother make the beds, Emma talked mom into playing red hands until the school bus came. Daniella wasn't at all shy around her daughter, so she didn't even bother to get dressed.
Red Hands Herald the Dawn
You can't see it because of the censor blur but there is no question where Emma Lee inherited her figure!
Donovan and Daniella had landed jobs as clerks at the record store. They were a bit shocked at the kind of records people were buying, but the job was pleasant and they found sufficient stock at the store that was more to their tastes that they could keep themselves entertained while at work.
Off to Work at the Record Store
The record store manager liked having them around. It might have been all of Daniella's warning messages or perhaps the presence of her husband in the store, but for whatever reason, the store was no longer cluttered with wolves hitting on the salesgirl. Eliminating the slackers who had been hanging around cluttering up the store resulted in a suddent jump in revenue, so everybody was happy!
The store manager was so happy, in fact, that he got them a job as disk jockeys for a large private gathering at the hotel. There was no question that to hire one of them was to hire them both--everyone in town was beginning to think of them as
The D&D Team
!
It would mean a significant increase in pay, but they had only a few hours of rest before they had to get to that party. The record store manager also ran the local cineplex. He had told them that he had to fill vacancies in two of the projection booths by tomorrow, they could have the jobs! But first they had to learn how to operate the projectors!
Time was tight. They were both tired when they got home, and wanted to rest before their gig as the D&D Disk Jockey Duo. But they needed to study the manuals for the projectors, too. And, on a more private note, both of them were really wanting to do things involving heavy breathing and sweaty sheets!
So, what do we do first?
For a wonder, they decided to study the projector manuals before they became too tired to swot up the information. It worked! Almost. After they got through the manuals there just wasn't enough time for a leisurely romp if they wanted to get a good nap before the party, so they had to settle for cuddling until they fell asleep.
A few hours later the alarm went off. They awoke refreshed and ready to spin those disks! They were both buzzing from their serious lackanookie condition during the party, but if the partiers noticed anything, it was simply that the disk jockeys--
The D&D Team
--seemed to be very animated and affectionate all night. Scantily clad young ladies at the party were flattered by the hungry looks they received from the guy behind the turntable, but quickly realized they'd be wasting their time with him when they saw the even hungrier looks he exchanged with his partner.
Snuggly, affectionate DJ's just added to the fun of the party, and the partiers were happy to say. While the cleaning crew was clearing the mess after the party, manager quizzed them briefly about their knowledge of the projectors. He was impressed, and told them he'd see them both in the projection booths the next afternoon!
When Emma Lee awoke the next morning, she found a trail of her parents' clothing leading from the front door to their bedroom. Biting her lips so that she wouldn't wake them with her laughter, she politely gathered up the clothing, folded it, and left it in a neat pile by their bedroom door before she skipped out to the school bus.
----------
Just in case you missed it: That's three jobs in one 24-hour day! They arrived well-rested and prepared for each gig and still managed to get laid in the middle of it all! The only thing they missed was seeing Emma during that period, but having her score an A+ boosted them into solid platinum. The Slacker track can be grueling but lots of fun to play!

_________________
Greg
Webmonster
Moon Sims ~ SimsHost ~ Ultimate Sims List
| | | |
| --- | --- | --- |
| | | |
Peake1981


SimsHost Champion



Joined: 21 Dec 2006
Posts: 198
Location: Zollernia, Neu Rheinland
Posted: Mon Dec 25, 2006 7:35 pm

Interesting, Greg.

_________________
Ich bin ein Preusse, will ein Preusse sein.
Greg


Anja's Sock Puppet



Joined: 30 Aug 2004
Posts: 6672
Location: Happy Valley
Posted: Mon Dec 25, 2006 10:19 pm

Thanks, Peake!
I've been neglecting the Devoteds and just about everybody else because I've been spending most of my free time fiddling with Anja's story and all the stuff that grew out of it.


_________________
Greg
Webmonster
Moon Sims ~ SimsHost ~ Ultimate Sims List
Wren


SimsHost Champion



Joined: 31 Dec 2006
Posts: 147
Location: Cornwall
Posted: Sun Jan 21, 2007 5:03 pm

Goodness,a whole family of romance sims!When I first got the game the Greentrees were the first family I created and they were all romance sims.The teenager wanted to fall in love with the paper boy but she was terrified of going steady!The mum didn't want any babies so she had a major breakdown when she ended up with eight!

| | | |
| --- | --- | --- |
| | | |
Zirconia Wolf


SimsHost Champion



Joined: 22 Jul 2006
Posts: 149
Location: In front of my computer! (Issaquah, WA. USA)
Posted: Sun Jan 21, 2007 7:19 pm

Very cool (and interesting) story/expiriment!
I have to agree with your take on the so-called Romance aspiration. Not that I have a problem with a super-horny Sim, but the idea of calling them
Romance
oriented is ridiculous! (This kind of behaivor would "fit" better- IMO- with the
Pleasure
aspiration. Or maybe a new
Over Sexed Immature Idiot
one? )
LOVED the look-but-don't-touch outfit! **snicker** That was hystarical!
You may be right about the "just say NO" idea. I will be interested to see if you are able to keep these guys blissfully happy even though they won't be fullfilling
all
their wants.....
-ZW

_________________


"I reject your reallity, and substitute my own!"

- Adam Savage, co-host of the

Mythbusters

TV series.
| | | |
| --- | --- | --- |
| | | |
Greg


Anja's Sock Puppet



Joined: 30 Aug 2004
Posts: 6672
Location: Happy Valley
Posted: Sun Jan 21, 2007 7:43 pm


So far, they're doing well! They been down in the green a few times but I've been able to hold out until they rolled up some new wants when I hit a roadblock.
This has been an interesting lesson in keeping sims happy while not giving them every want that passes through their heads. It's fun playing a Truly Romantic couple!
I'm not sure what I'd call the behavior of the so-called "Romance" aspiration. Maybe "Scorekeeper."

_________________
Greg
Webmonster
Moon Sims ~ SimsHost ~ Ultimate Sims List
| | | |
| --- | --- | --- |
| | | |
Greg


Anja's Sock Puppet



Joined: 30 Aug 2004
Posts: 6672
Location: Happy Valley
Posted: Sun Jan 21, 2007 7:50 pm

When I first started playing, I did that same thing, Wren. I saw the Romance aspiration and had never played it. Then when my self-sim got to be a teenager I figured I'm a hopeless romantic, so I gave him the Romance aspiration.
The result of all that was a baby boom in Happy Valley and a plague of sims with light-brown eyes!

Then I realized that I didn't much like my self-sim. I had him gadding about in nearly every household as my viewpoint character (which is why he dominates all the stories and may even be related to The Bomb That Wiped Out Happy Valley). I couldn't just blow him away, for lots of reasons (not the least of which is that I didn't want to kill off my self-sim). So when Sheba came along, She converted him to a family aspiration and after that, life was good!

_________________
Greg
Webmonster
Moon Sims ~ SimsHost ~ Ultimate Sims List
| | | |
| --- | --- | --- |
| | | |
Sita


Dancer of the Nine Disks



Joined: 06 Sep 2004
Posts: 1538
Location: Bristol UK
Posted: Sun Jan 21, 2007 9:49 pm

Of course, every good man needs a good woman to lick him into shape!

Greg


Anja's Sock Puppet



Joined: 30 Aug 2004
Posts: 6672
Location: Happy Valley
Posted: Sun Jan 21, 2007 10:51 pm

This does appear to be the case!


_________________
Greg
Webmonster
Moon Sims ~ SimsHost ~ Ultimate Sims List
You cannot post new topics in this forum
You cannot reply to topics in this forum
You cannot edit your posts in this forum
You cannot delete your posts in this forum
You cannot vote in polls in this forum

All times are GMT - 5 Hours
Page 1 of 2