Death to Spammers!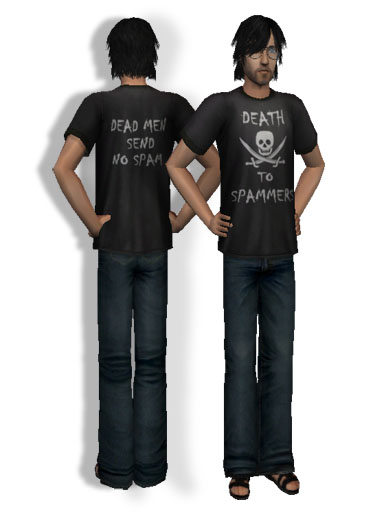 DEATH TO SPAMMERS!
SimsHost subscribers can click on the image to download this oufit. 555 KB (pretty big)
This is a full-body outfit for adult males.
Unzip the file 'psam_death_to_spammers.zip' and save the .package file in your SavedSims or Downloads folder.
Got a sim who's fed up with eternal vigilance and ready to become an active vigilante in the battle against the slimey evil inhuman sleazebag sociopaths who are attempting to destroy the net? Now he can spread the word across the land! It's time to get out the torches and the pitchforks! Immanentize the real solution to this pervasive pestilence!
Hunt 'em down and

kill

'em!
When international television carries images of a few spammers' heads mounted on spikes, they'll stop! And if they don't, no worries, we can make more spikes!
How many o' them can we make die?
Oops... whew... got a little carried away there.

Obviously, this outfit was inspired by the discussion in the topic When Spammers Attack. Now, where did I put my pitchfork?