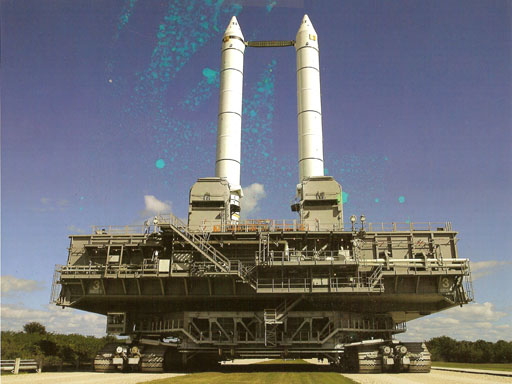 This picture hung above my desk for two years because I think it's funny. It seems to just scream for clever captions.
The one that comes to mind most often:
"Commander! Go back! We forgot something!"
Or...
C'mon down and test-drive the ultimate SUV! The Crawler Transporter QVB!

You'll be amazed at the smooth ride you get in this behemoth as you glide over Tennessee river rock! You'll thrill to its neck-snapping acceleration as you zoom up to it's blazing top speed of 1 mph! Scoff at the gas pump as you get an amazing 42 FPG!* Parking is no problem with your new CT QVB; it doesn't matter if the parking space you want is already occupied!



Dealer prep, delivery charges, tax, title, and license extra. Check with your local law enforcement agency before purchasing this vehicle--it may not be comply with local vehicle limits. Air conditioning, automatic transmission, bucket seats and UHF radio included as standard equipment. Shown with optional solid rocket boosters.
----------
*That would be "feet per gallon" of course.