Drama Queen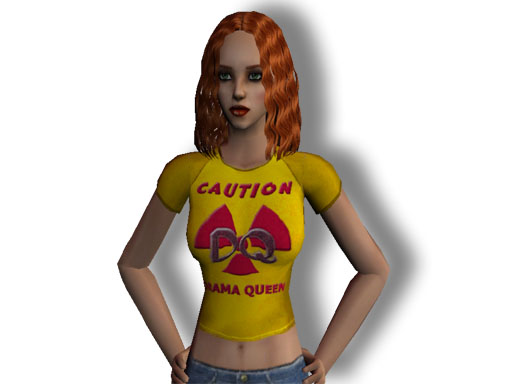 Drama Queen
SimsHost subscribers can click on the image to download this top. ~167 KB (not too bad).
This is a top for adult females in The Sims 2. Sized for the game's default T-shirt mesh.
Unzip the file psaftopdramquen1.zip and save the .package file in your SavedSims or Downloads folder.
Every neighborhood has at least one. You've met them; people who get their jollies stirring up trouble and creating drama where none existed before, who are happiest when they are fomenting angst.
Now you can warn the neighbors and make your drama queen's life more satisfying at the same time by attracting people who enjoy that kind of stuff! Plant two of 'em next door to each and watch them heterodyne!
Caution is advised:
Drama queens tend to quickly reach critical mass in the presence of a
PSTF babe
. Your neighborhood might not end up as a big firey ball visible from space, but your local society certainly will!