Kosmos Cosplay Outfit for Teens
I received a request for the
Kosmos Cosplay
outfit sized for Warlokk's teen body shape variety project, so here it is! The download links are after the pictures; read the notes.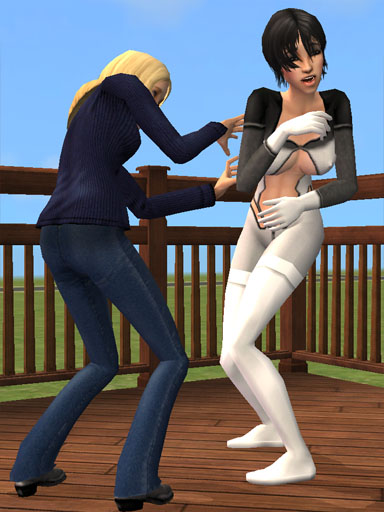 Momo Xenos in the Kosmos Cosplay outfit, being tickled by her sister, Serendipity
Momo has large hips and a D-sized superstructure.
Download links are near the end of this message.
Kosmos Cosplay outfit for Teens, Departure View
I foolishly quit Body Shop and started up my game before making a screen shot. Instead of going back to Body Shop, I decided to create a teen to wear this outfit in the game, hence Momo. Her sister Serendipity was serendipitous: The game rolled her up; she looked like a keeper; and so she became part of the local populace in the town of Elysium. Momo is a clone of Ronnie Fensworth reverted to teen. Both of their parents are clones of Ronnie, too.
Since the request wasn't specific about
which
of Warlokk's teen sizes the outfit should be sized for, I made
two versions--a bottom and a top
--and guessed that since it specified one of Warlokk's meshes that a shapely teen was implied.
I don't have a high-heeled bottom mesh for teens, but the outfit turned out rather nice with flat boots.
Making the two versions gives you a better chance of matching the body shape of the teen you're working on without having to make 16 separate full-body outfits. You can choose from a large-hipped bottom to match any top size or a large-sized top to match any bottom. (If anyone wants a body shape you can't make with these options, let me know. It's easy to make variations; the most difficult parts are waiting for Body Shop to start and then getting the results on line.)
As with the adult version, these outfits worked best when matched with a complementary nude top or bottom; however, the top looks kinda cute when matched with a skirt, too. Note that the bottom texture will always override the top texture, but it will take on the shape of the top.
The Bottom
Like the
adult version of this outfit
, the bottom can be paired with any top to match your teen's body shape.
SimsHost subscribers
can click here to
download the bottom outfit
.
The bottom
requires
Warlokk's mesh, Warlokk_tfBottom_Lg_Nude.
You can download all of Warlokk's meshes from
Warlokk's Tower
(hosted by Insimenator). When I went there just now to find the exact topic that had the downloads, the Insimenator site was runny
really
slow. That's a clue that it's time for us to help out with the bandwidth, so here's an alternate download link for SimsHost members:
Download Warlokk's mesh
Warlokk_tfBottom_Lg_Nude
from The Pearl.
Warlokk's mesh is a

free

download, but it does require that you create a SimsHost membership. To create a free SimsHost membership, just Join SimsHost and stop at the point where you would put money in your account and ignore any notes about activating subscriptions. If you later decide you want to help us pay the bills, just go to the Maintain Your Account link on the SimsHost front page and put some money in your account.

This bypasses the links for donating to Insimenator (who host all of Warlokk's stuff) as well as to Warlokk's Workshop & Tip Jar, so I'll just provide those links here for those who would feel inclined to help them pay

their

bills.

The Top
The top is the exact same outfit but packaged as a
top
. This is Warlokk's D-size teen top, which can be paired with any bottom to match your teen's hip size.
SimsHost subscribers
can click here to
download the top outfit
.
The top
requires
Warlokk's mesh, Warlokk_tfTopNaked_D.
Again, here's a link where SimsHost members can download Warlokk's
Warlokk_tfTopNaked_D
mesh from The Pearl. (The mesh is a free download. Please see notes above for thises, thats, and the link to Warlokk's tip jar.)
In case you need to know: The Hullabaloo's membership database is not the same as SimsHost's; you need to create a separate SimsHost ID, although you can use the same username and password if you want to.
I'd recommend using a different login credentials for your SimsHost membership, for security reasons, especially if you think you might want to put money in your SimsHost account or enter personal information there. The same people have access to the membership database--that would be Nancy, Scotty, and me--but the SimsHost system is intrinsically more secure than the Hullabaloo.