Kosmos Cosplay
Here's another one for Warlokk fans!
Kosmos Cosplay
SimsHost subscribers can click on the image to download this garment. About 313 KB.


Requires

Warlokk's 36 hip high-heel mesh, MESH_Warlokk_36BottomNudeHeels.
You can get all of Warlokk's meshes from Warlokk's Tower.
This looks like a whole outfit but it is a

bottom

. The texture will overlay any top you pair it with.
Shown here with the topless top from Wilhemina's Sexy Top Collection. See the detailed discussion for more about what you can do with this outfit.
Instructions: Download the zip, unzip it, and put the .package file in your SavedSims or Downloads folder. Also get Warlokk's 36 hip high-heel mesh and put that in your Downloads folder.
Once upon a time, I wandered into the big Cosplay convention at the Boveena convention center. I was looking for ideas for exotic outfits for The Sims 2. After purchasing my membership, I turned around and saw a very likely candidate standing before me: Two identically dressed, almost-identical twins.
"Wow!" I said, with all due eloquence. "What character are you? Erm... characters."
That drew an undeserved but nevertheless appreciated laugh. "This is a preview of our KOS-MOS costume!" one of the sisters said. In tandem, they turned for a three-quarter pose. She told me name was Rita Fensworth. Her sister's name was Ronnie, short for Veronica, though she wasn't all that short in those spike heels. "We have long blue wigs and lots of other props up in our rooms but we're saving those for the show. And red contact lenses, but they make my eyes hurt."
"Hmmm..." said I. "I don't have a mesh to do long blue wigs and probably not the props, but I could make that outfit."
"Make the outfit?" Ronnie said. "Aren't you that Captain Hero guy?"
It was my turn to chuckle. "Not hardly. He's my evil alter ego. I'm just the clother and chronicler to the realm."
Despite my lowly unheroic status, the Fensworth twins happily agreed to pose for some screen shots. As it turns out, the costume is very stretchy, especially above the waist, so it can accommodate a wide variety of body shapes stuffed into it.
What that really means:

This outfit is a

bottom

. You have to pair it with a top, and the shape of the top will vary depending on what top you pair it with.
This bottom texture will overlay the top and will take on the shape of the top.
For example, if you would like the sleeves to be a bit more prominent, you might match it up with a T-shirt mesh that has no visible texture, like this: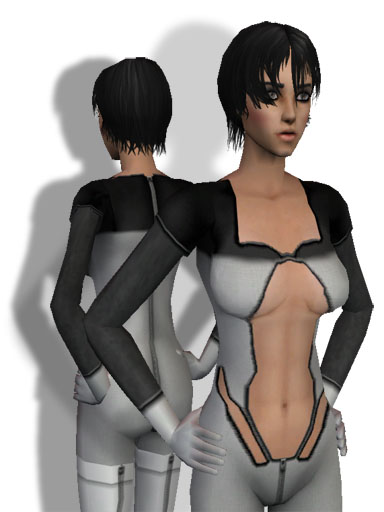 Kosmos Cosplay Matched with a Blank T-Shirt Top
SimsHost subscribers can click on the image to download the

blank T-shirt top

. About 242 KB.


Important

: This top will look really weird just by itself. If the bottom doesn't provide the top texture your sim will show up nude above the waist but her arms will look like she grew T-shirt sleeves.
Of course, I thoroughly enjoyed the little photo shoot. Besides the delightful epidermal landscape revealed by the costume, it had that very intriguing zipper that started in the front and ran all the way up the back. Overtly suggestive, and quite authentic to the character KOS-MOS, an android in the Xenosaga console game.*
Ronnie interrupted the photo shoot. "Hey! Aren't you going to take a picture of me, too?"
It only took a glance to see why it was important to take a picture of the other almost-idential twin. For one thing, she was standing right under the air conditioning duct, and for another, well, see for yourself.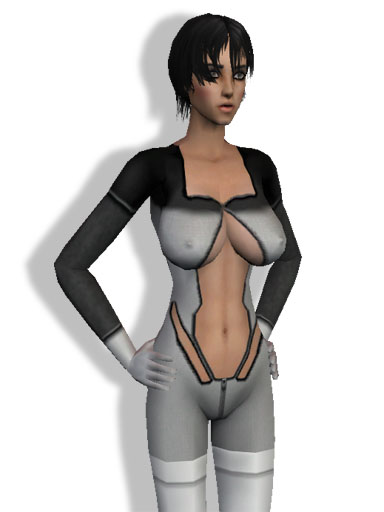 Ronnie was Rita's Almost-Identical Twin
Here, the bottom is paired with Warlokk's 36DD nude top.
Get the top mesh from Warlokk's Tower.
(The deer-in-the-headlights look was not an act.)
I had to ask. "If you two are identical twins, why did your bodies develop such different shapes?"
Rita giggled. "Yeah, Ronnie definitely turned out to be the more bovine of us two."
"It's because of our diet," Ronnie said. "I might be the Boveena cow of the family but in fact it's because I ate the chicken and Rita ate the beef."
"We went through a phase when we were going up, where we were obsessed with being different, you see," Rita said. "I always went for beef, so Ronnie insisted on having chicken."
"And the chickens mom bought had been given growth hormones," Ronnie put it. "So, with a massive dose of growth hormones at the critical time of my development, well, I
grew!
"
"Yeah, darn it," Rita said. "I wish I had--"
"My backaches?"
"Oh. Good point. Yikes! Look at the time! We need to go get our wigs on! See you later!"
----------
*In truth, that's where the idea for this outrageous costume really came from. My son was playing Xenosaga. I looked at the book lying next to him and saw KOS-MOS, who to my eye is the sexiest stock character in a T-rated game I've yet seen. There are lot more fiddly details to the character but I liked what I had when I got to this stage, so here it is!

This outfit really needs a bump map ("normals"), but Warlokk's mesh didn't have one the last time I downloaded it.