I was looking at the background of the image I used to display the shirt and thought that the flag would be a pretty neat thing to have to hang on the wall. (The one in the image above is an artifact of Photoshop.)
If'n somebody who knows how to mesh were to be so inclined, this might come in handy: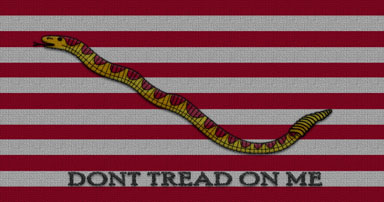 Click on the image to get the big version.
I'd guess that it would be relatively simple mesh, just a simple rectangle based on a picture object with the right aspect ratio to match the flag and the right width to fit nicely on a wall panel or two with a strecher behind it. I'm thinking that if I had one of these things in real live I'd make a simple flat wooden frame, like an artist's canvas stretcher, to support it from behind and maybe cover the frame with a dark fabric so that it doesn't conflict with the flag.
For your amusement, here's a link to the
Wikipedia article
where I pilfered the image that I started with to make this one. The jack has a really interesting history.
I modified the image by adding a fabric texture, aging the colors, changing the font and making it look a bit more crude, making the snake appliqué a bit transparent (that took four Photoshop layers), and adding shading hither and yon. I condsidered adding some stains, tears, and deterioration to make it look really old, but that wouldn't have been historically accurate (none of the original flags are known to exist) and I just couldn't bring myself to besmirch the jack.