The Dancer
An Experiment with Warlokk's Body Shapes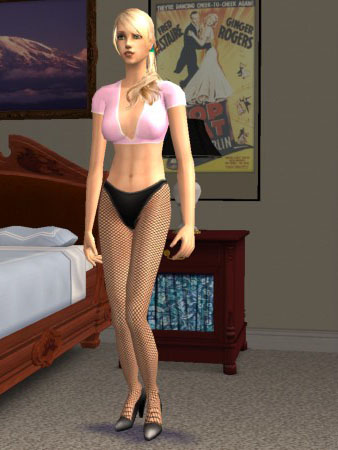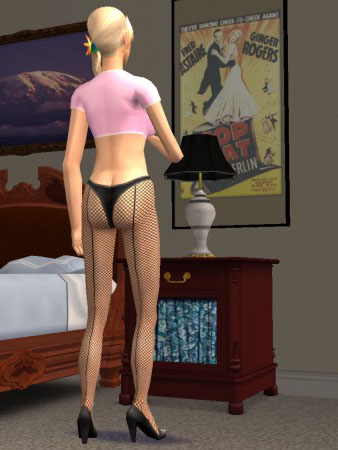 The Dancer
This outfit is a

free

download.

You must have at least a free SimsHost membership to download

these garments. If you don't have a SimsHost membership and want to create one, just create your SimsHost account and stop at the point where you would put money in your account. Free accounts have access to all the freebies that the webmasters have put on their sites, including all the treasures in the Christmas 2006 Treasure Hunt.

If you later decide that you want to help support SimsHost and download all the other nifty stuff, you can add money to your account at any time. Just go to the SimsHost front page and click on the link to "Maintain Your Account."
ABOUT THE OUTFITS
This rather unique outfit was inspired by togs that Elizabeth Berkley wore in the scene where she was auditioning for the big stage show in the movie
Showgirls
. It's something I've always wanted to try but until Warlokk started his
Female Body Shape Variety Project
, there just weren't any appropriate meshes available.
There are five garments in this series: Three are fishnet tights with a thong brief and high heels. Each of the three is for a different hip measurement--34, 36, or 38.
One outfit is the pink top. You can tell which is which by looking at the filenames.
The fifth is a special bottom that includes the top. See notes below for more about interesting things you can do with it.
This outfit made its debut in this topic in Warlokk's tower:
http://www.insimenator.net/showthread.php?t=19787
IMPORTANT:
These outfits
require
Warlokk's custom clothing meshes.
There are five separate downloads available. You can download them from the links in the left-hand colum below. Make sure to get the mesh associated with each. See notes below the table to find out where to get the meshes.
DOWNLOAD LINKS AND REQUIRED MESHES
Click on the links below to load the garments. Then see notes below for where to get the meshes.
WHERE TO GET THE MESHES
The bottoms are in the file "Warlokk's Bodyshape Bottoms.rar" which you can download from this topic:
http://www.insimenator.net/showthread.php?t=4384
(Warlokk might be updating this so check the high-resolution discussions to see if there's a new version. If so, go ahead and install the new version even if the filename is different.)
The 34D Natural top is in "Bodyshape 34D Nat Top Separates.rar" which you can download from this topic:
http://www.insimenator.net/showthread.php?t=16936
You can download all of Warlokk's meshes from
Warlokk's Tower
at insimenator.net:
http://www.insimenator.net/forumdisplay.php?f=118
(Warlokk's tower is hosted by Insimenator, so your Insimenator login will work there. If you don't already have one, you want one.)
This information is also included in the file "readme_psafdancer.txt" which is included in each zip file. If you read all this, you don't need to read the readme, too; but since you didn't, you'd better keep that readme around or you won't be able to figure out which mesh goes with which garment.
ABOUT psafbottom_dancer_36hip_with_top
This is the odd one. It's the fishnet tights for size 36 hip, but the pink top is included in the texture. You can match this with any top, but the pink top will overlay whatever top you match it with.
For example, if you dress your sim in this bottom and a nude top, the pink top will take on the shape of the nude top. By pairing it with different tops from Warlokk's collection of nude female body shapes, you can adjust the size and shape of the bust and even choose whether the model's nipples will show.
The niftiest thing about that is I don't need to make a separate top for each bust size. Just match it up with the nude top in your sim's size and you've got it!
If you match it with any other kind of top, the pink top from this outfit will overlay the other top and take on its shape, with the rest of the top showing throw. This can be a nifty effect if you match it with a bra, but will look rather silly if your sim is wearing a sweater underneath the dancer top.
Rewarding Warlokk
Warlokk's stuff is free for everybody but I do want to note that he
does
have a Tip Jar at
Warlokk's Workshop
. If you like his work, please do consider dropping some money in the Tip Jar. Insimenator hosts his stuff so you might want to consider rewarding their efforts, too.
Note for Skinners
The trickiest part of these garments was getting the fishnets to line up. It took a while but after stretching, rotating, and skewing the back and front, I got pretty darn close on the legs. I just plain gave up on getting the legs to match up with the feet; haven't noticed the discrepancies in the game. Most of the magic is in the alpha, but the texture does have shading for the body contour thta you would notice only if it weren't there.
That hair came from someone on MTS2 but I'll be darned if I can remember where I got it and I can't start my game to check for a Tool Tip until I get this posted. Anybody know?

One of the paintings on Elizabeth's wall is from my Mount Kilimanjaro set. It appears that I haven't uploaded the Fred & Ginger poster yet.