Fishnet Microskirt and Bustier No. 2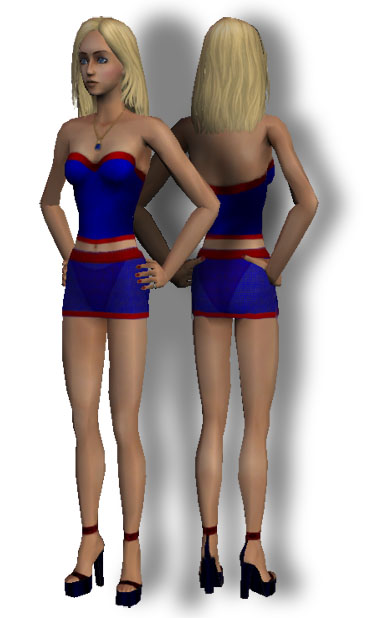 Fishnet Microskirt and Bustier No. 2
Modeled by Dallas Geieffies, who otherwise wouldn't be caught dead in this outfit.
SimsHost subscribers can download the outfit by clicking on the image. (~687 KB.

Pretty big

.)
Unzip the archive and put

both

files, psafmicroskirt02.package and Mesh_chriko_LongAlphaSkirt.package, into your Downloads folder.
The archive contains the adult female outfit shown above. Although it looks like separate top and bottom, it's just a one-piece everday outfit so that's were it will appear in your clothing catalog.
You do need the separate mesh file, which is included in the zip, but you don't need to install the mesh again if you already have it in your downloads folder.
Now
this
is an attention-seeking outfit! Comfort is no excuse. Nope; not with those shoes!
It's another experiment with Chriko's meshes from
2-for-u
that turned out pretty neat by the time I got done fiddling with it. Although the skirt is so short that she'll want to make sure that she's wearing clean panties, this outfit is really based on Chriko's Long Alpha Skirt mesh.
Speaking of panties, let's take a little inventory of what this oufit is made of: red and blue bustier top, necklace, fingernail polish, two rings, red and blue fishnet skirt, two-tone stacked shoes, and of course a very nice pair of matching red string panties.
None of the fun bits show, but the outfit is pretty racey nonetheless. Take a closer look at the skirt:
What you see is what she's got.
When I said "fishnet" I really meant
fishnet!
Or maybe it's a collision between the net from the ping-poing table and a bottle of Rit dye.
Although it looks like it's separates, this is really a one-piece oufit, undies included. There are two files in the zip: the outfit and Chriko's mesh. If you already have Mesh_chriko_LongAlphaSkirt.package in your Downloads folder, you don't need to install the mesh again. (You might have an outfit with a long skirt based on the same mesh and be wondering how this could be the same mesh. Don't worry; it'll work. The magic is in the alpha channel.)
It's a pretty big download--687 KB--because the package includes 3 textures and 3 alpha channels.
----------
The mesh includes the upper body so if you have one of those upper-body-enhancing override meshes installed, well, just pretend that she's getting squished by the bustier and that's why she explodes into mammalian freedom when she takes off that iron maiden.