Angelina 4630
(Or...

Humoring Connie, Episode 5

)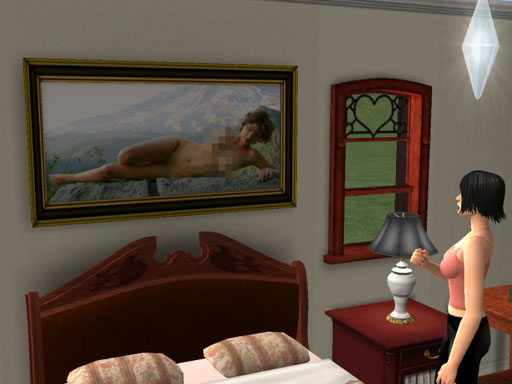 Angelina 4630
Image courtesy of and used with the permission of Eolake Stobblehouse, DOMAI
SimsHost subscribers can click on the image to download. (Tiny. About 26K.)
Unzip the file and put pspainting_domai_angelina_4630.package in your Downloads folder a subfolder under Downloads.
The painting will show up as a color variation of the 2-tile Abstract Painting in your wall decorations catalog.


Warning:

The image for display here has been censored; the image in the game has not.
With
Drew Barrymore
decorating the space behind her bar and all those other new toys to go with her shiny new windows, I was confident that Connie Pearlman would have enough to keep her distracted for quite a while. Unfortunately, she had other plans.
"One more? Please! Please! Just one more! That space behind my bed is really blank!"
"All right.
One
more. One! What will it be this time?"
"Well, my boyfriend is coming over tonight, and I want him to be really inspired! Maybe something from Eolake's
DOMAI
collection?"
Warning:

That link takes you DOMAI. While not classified as an

adult

site, DOMAI has lots of photographs of nekkid persons.
"I already did two of those. They're hiding in the
Demi Widow
topic."
"Nice, but they're not the right size to go over the bed. Besides, I want something more adventurous!"
So I puttered around and found something that fit the specification. "Here it is! Eolake calls it Angelina 4630, but let's call it
Naked Lady on the Rocks
. Now, that's the last one for today! Don't forget that you have to be at the lab in the morning!"