Drew Barrymore No. 2
(Or... Humoring Connie, Episode 4)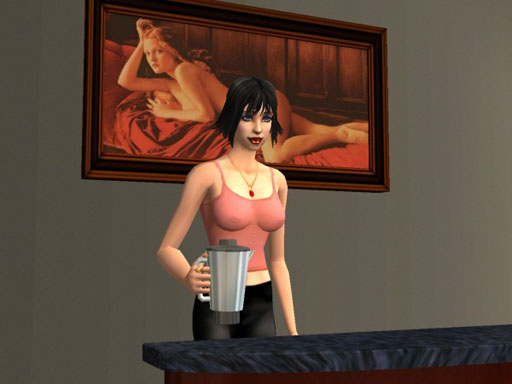 Drew Barrymore No. 2
SimsHost subscribers can click on the image to download. (Tiny. About 26K.)
Unzip the file and put pspainting_drew_barrymore_02.package in your Downloads folder a subfolder under Downloads.
The painting will show up as a color variation of the 2-tile Abstract Painting in your wall decorations catalog.


Unwarning:

You don't see much more of Drew in the actual painting than you do here, so don't get your hopes up.
I figured that her new
chess painting
would be enough to keep Connie Pearlman amused for a while, but noooo...
"Hey, as long as you have Photoshop fired up," she said, "can I have a painting to go behind my bar?"
I foolishly asked, "Uh, what do you have in mind this time, ma'am?"
"Well, you know, the class languorous lady pose."
"Yeah, I can do that. Any other specifications?"
"I'll stump you with this one! I want it to be one of Charlie's Angels!"
"Farrah Fawcett?"
"Fresher.
My
generation of angels!"
"Well then-- here ya go! Drew Barrymore herself, in the classic babe-behind-the-bar post!"
"Wow! Where'd you get
that
picture?"
"Would you believe I'm a personal friend of Drew?"
"No."
"Oh well. It was worth a shot."