Sandro Botticelli
Alessandro di Mariano Filipepi (March 1, 1445 – May 17, 1510)
Italian Painter during the Early Renaissance
This first one is probably Botticelli's most famous work. The face of Venus from his painting of "Venus on the Half Shell" graces the face of the first European Euro coin.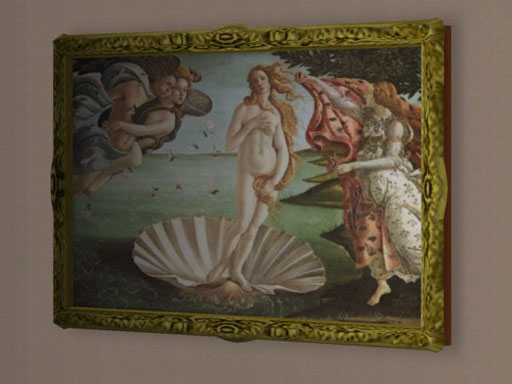 The Birth of Venus
by Sandro Botticelli, 1484-1486, ~70 KB
This painting has been cropped a little bit to fit the aspect ratio of the original object.
SimsHost subscribers can click on the paintings to download.
Unzip the zip and save the .package file in your Downloads folder or a subdirectory under your Downloads folder.
The paintings will show up as an option for the "Tomato Head" painting in your game's catalog of artwork for the walls.
Next, Botticelli's
Primavera
hangs at the summer palazzo of Pierfrancesco de' Medici as a companion to
The Birth of Venus
and
Pallas and the Centaur
.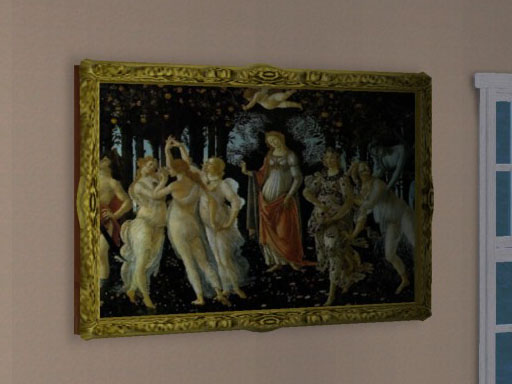 Primavera
by Sando Botticelli, 1478, ~68K
The uneven lighting is because these are screen shots from the game.
To round out the trio (since I haven't done
Pallas and the Centaur
yet), here's a pecular work from a set of four paintings:
The Story of Nastagio Degli Onesti
.
This painting illustrates a scene from a really strange story in Bocaccio´s
Decamerone
. It will certainly give your sims something to talk about; or at least it would if sims talked about paintings!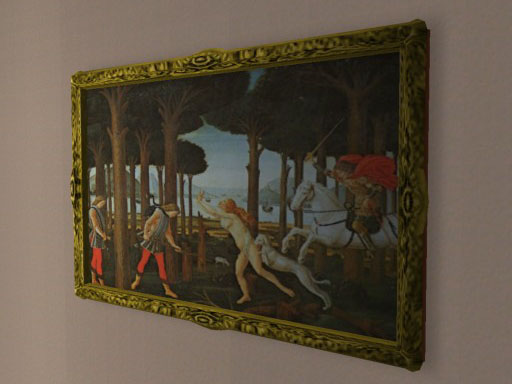 The Story of Nastagio Degli Onesti
by Sandro Botticelli, c. 1483 ~68K
In the story, young Nastagio Degli Onesti failed to get the interest of his one true love. Depressed by this, he went for a walk in the woods, where had a bizarre vision.
In Nastagio's vision, a woman was chased through the woods by a nobleman who tore her heart out and fed it to his dogs. Nastagio interpreted his vision to be a warning of the eternal punishment a lady would experience if she spurned the love of a suitor who then committed suicide.
Nastagio Degli Onesti invited several friends, including the girl of his dreams, to go on an outing in the country. He led them to same place where he had had his vision. When the picnicking party also saw the terrifying vision, the object of Nastagio's affection agreed to marry him.
The story of these paintings is even more intriguing because Botticelli created them as a commissioned work to illustrate a wedding ark, for a wedding that united two of the great houses of Florence.