So...how's about an update?

Several months later...
Life went on pretty much as it always had for the family. Amin and Elise had fallen in love with their roommates and decided to elope as they neared the end of their college years. Though they had only been part of the family for a short while, Audrey cherished them as much as she did her own children, and was over the moon that they had found someone to share their lives with. Beverly and Orlando had their hands full raising their triplets. Laura and Keith were getting Molly ready for college, and Heather (their younger daughter) was entering high school, as were Pierce's youngest boys, Jeph and Quinn.
Things at the main household were a different matter. The distrust Pierce had towards Kaylyn remained unchanged; however he did his best to put that aside as he did what he could, along with Audrey, to prepare both her and Bert for their impending parenthood.
Tragedy soon befell the family as well. Abigail and Julie, not having had the chance to go on a proper honeymoon after their wedding, finally found the time to take a trip together. They traveled to Australia for two weeks, but sadly their return flight mysteriously went off course and vanished, and they were never heard from again.*
It became clear as Kaylyn's due date drew closer that Audrey's energy level was deteriorating. She spent more and more time resting, leaving Pierce to shoulder most of the responsibility of raising Jasmine. Pierce grew concerned, but with so much going on, he didn't have much time to dwell.
*Yes, I'm guilty. A certain significant other has managed to get me hooked on

Lost

. The reason for this particular plot twist, among others, is that the neighborhood has become buggy and I need to write around the bugs, such as these characters suddenly vanishing from the neighborhood. I've also removed nearly all custom content from my game, so please forgive any small differences you may notice.
One particular evening Pierce joined Audrey in bed, trying not to wake her as he slid beneath the sheets. He failed at this, and Audrey stirred and smiled as his body nestled against hers.
"How are they?" she asked quietly.
"I'm pretty sure it's going to happen soon, probably with in the next day or so. She's been getting restless and cleaning like crazy, even though we've been telling her to slow down."
"She'll be fine," Audrey said softly, almost weakly. "Just trust her. Women know how to do these things. You've been through this before, anyway. I don't know why you're so worried."
"Yeah." He didn't, either.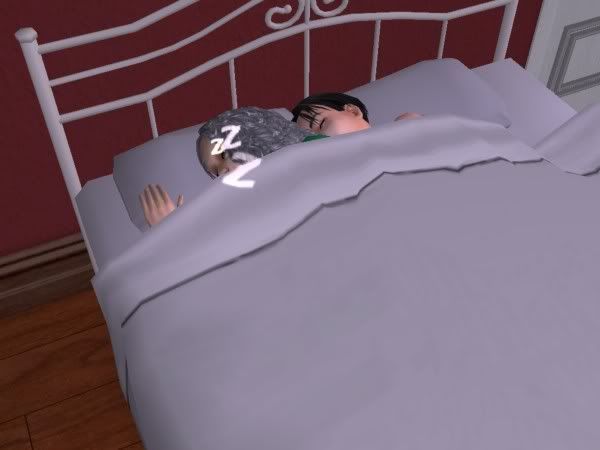 "Pierce?" Audrey said after a few moments of silence.
"Hm?" He was just about to drift off when she had spoken.
"I don't say it enough, but I love you so much. You mean the world to me. You've been here through everything. When things got rough, you didn't run away. You stayed and worked through our problems. You've been a wonderful husband and a terrific father. I couldn't have asked for anyone better."
"Shh," Pierce said as he kissed the back of her neck. "Get some sleep. I have a feeling tomorrow's going to be a big day."