| | | |
| --- | --- | --- |
| | Bellevue | |
Kaylyn


SimsHost Champion



Joined: 06 May 2006
Posts: 582
Location: Shreveport/Bossier, Louisiana
Posted: Fri May 12, 2006 10:21 pm

| | | |
| --- | --- | --- |
| | | |
I started this story in a blank neighborhood and a single adult male. I originally intended it to be my newest attempt at an extreme Legacy challenge, but as I faced the prospect of having to wait a week before moving anyone in, I said, "Forget it!" and the first moderately wealthy female with a decent job he met downtown became his future wife; he just didn't know it quite yet.

The only plot I set out with was the circumstances in which he found himself in such an odd situation. After that, I'm leaving it up to the sims. I play to their wants for the most part, and after playing with them for a little while I get a feel for their personalities. Then sometimes I get a plot in my head, and I run with it. Of course, the little simmies sometimes get their own ideas, and I run with those too. For randomness, I use a die to roll for their aspirations when it's time to choose them as teens and if I decide I want them to change in college. Sometimes a situation will come about that I didn't expect, and I'll even roll the die to decide which way to take the story based on that event.
I tend to add a LOT more drama for story purposes than is actually going on in their little lives. But you don't know how my game is being played. You're just here for the story, right? Thought so!
Speaking of that story, here goes nothing! (Ack, I'm nervous now!)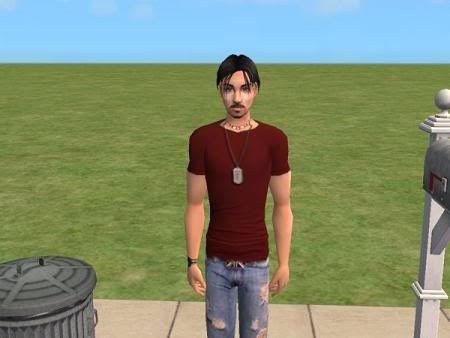 Pierce Jennings awoke to find himself lying face-down on a sidewalk on what appeared to be an abandoned piece of land in the middle of nowhere.
"Sylvia," he muttered, blinking against the harsh light of the sun. He must have partied too hard the night before and passed out drunk. This must be his friends' idea of a fun time, to dump him out in a pasture somewhere to find his way home when he finally woke up.
His eyes soon adjusted to the light, and he looked around. Strange...this place didn't look familiar at all. He knew every back road in town, but he had never seen a place as deserted as this. He also knew that Sylvia would not have left him alone. She must be hiding someplace. Not that there appeared to be any place to hide, but still...
"Sylvia!" he yelled. No answer. This was odd. He looked around again, and suddenly realized that this lot was not as abandoned as it appeared to be on first glance. The mailbox was brand new. The garbage can by the curb didn't appear to have ever held a scrap of trash in it before.
And he didn't have a hangover.
Mystified, he attempted to piece together the events of the previous night. There was his high school graduation...the after-party at his house, which he now remembered was non-alcoholic...his informal proposal to Sylvia, his girlfriend, which she had accepted...and then, nothing. It was if someone had slammed a heavy iron door on his memory from that point forward.
Frustrated, he stuffed his hands into his jeans pockets and began to pace back and forth along the sidewalk. Suddenly he stopped. His hand was grasping something in one of his pockets. He pulled out the item; it was an envelope. Inside was a note and a few bills. The note read:
"Mr. Jennings, we humbly apologize for the way in which you were taken from your home. We also regret that we were forced to erase from your memory certain events that occurred last night that, if you had been able to recall them, would have affected the outcome of this particular experiment. We are sorry to say that we cannot offer you any more details other than the following. The plot of land you are standing on is yours, as is the currency enclosed with this note. You may do what you wish with these things. Good luck."
Pierce counted the money. The currency was unusual, but it looked like it added up to 1500 somethings. Considering that he didn't even have a roof to sleep under on this plot of land, that didn't sound like a whole lot of money.
He stood on that sidewalk for hours, wondering angrily who thought they had the right to do this to him. His life had been going so well. He had been about to enter college, which he had been looking forward to since before he had even entered high school. He had just gotten engaged, albeit unofficially. Everything was running along smoothly, and now this! An experiment? Run by whom?
He formed conspiracy theories. He fumed to himself. He screamed aloud to the sky, demanding answers. But none came. Soon he came to the realization that however he came to be here, he was going to stay here, and he had better figure out what to do.
He was getting hungry.
| | | |
| --- | --- | --- |
| | Bellevue Chapter 2 | |
Kaylyn


SimsHost Champion



Joined: 06 May 2006
Posts: 582
Location: Shreveport/Bossier, Louisiana
Posted: Fri May 12, 2006 10:25 pm

| | | |
| --- | --- | --- |
| | | |
A horn honked right next to him, startling him out of his thoughts. "You look a little lost. Need a ride?" the driver asked. "No charge."
Pierce numbly got into the taxi and it took off. Finally, another human being to talk to, and now he didn't know where to begin. "I have kind of a stupid question," he said finally. "Where am I?"
The driver chuckled. "That's not that stupid. This is Bellevue. Trust me, I've heard stranger questions than that."
"Bellevue," Pierce repeated. "I've never heard of it."
"Not a lot of people have. But it's a nice town. Lots of things to do. You just happened to land on the outskirts. It's really quite populated. I'll drop you off downtown and you can see for yourself. Was that your place I picked you up at?"
"Long story short, yes. I don't really remember how I got here, though."
The driver just nodded, apparently not thinking that was a strange thing at all.
The cab cruised through downtown Bellevue. "Where to?" asked the driver.
"Oh, anywhere. Here's fine, I guess." Pierce exited the cab in front of a cafe and tried to hand the driver some of the bills he was carrying, but the driver waved it away.
"No charge. That's not the way it works here."
Pierce watched as the cab drove away and then looked around. Well, since he was downtown, he figured there was no better place to go job-hunting. He didn't plan on settling down in this town. He was determined to find out what had happened to him and how to get out of this situation. But it would take time, and he needed to be able to take care of himself until he could do so.
He turned around and went into the cafe to see if they were hiring at all. All thoughts of job-hunting fled his mind, however, when his eyes alighted upon a gorgeous woman waiting for a table on the back patio. Before he could stop himself, he was walking towards her. She was preoccupied with the menu and didn't see him at first.
"Excuse me," he said hoarsely. The woman turned and locked eyes with him. Her stare was intimidating at first, but her expression softened a bit after a few seconds. He spoke again. "My name's Pierce."
"Audrey," she replied, and offered her hand.
Pierce shook it, and when his hand touched hers he felt a shiver that had nothing to do with fear. His mind immediately brought up an image of Sylvia and he felt a pang of guilt for having such an intense reaction to another woman. And what a woman! Headstrong, successful...it was all evident in the way she carried herself.
The hostess finally arrived to seat Audrey. "Table for two?" she asked.
Audrey looked at Pierce for another moment, then said, "Why not?"
They were seated on the patio overlooking the koi pond in the back of the cafe. As Pierce looked over the menu for himself, Audrey said, "So, I'm a surgeon over at Bellevue Memorial Hospital. What do you do?"
Pierce sighed. "That's a long story." And so he recounted the events of the past 24 hours as best as he could remember. By the time he finished it was already dark.
"It's probably best you don't talk about this to anyone else, or people may start to wonder about you. And for your own personal well-being, it's probably not a good idea to dwell on what happened. Assuming everything you've told me is true, then it doesn't sound as if you're going to find a way out of it. Whoever set it up has probably thought of every possible angle and has covered their tracks well. You'll only make yourself miserable trying to figure it out. If you want my advice, which I'm gonna give you whether you want it or not, I'd say to put it in the back of your mind. I know you'll never forget it entirely, but repress it and focus on starting over. Make a life for yourself in the present."
Pierce nodded, a little defeated. "That looks like my only choice at the moment." Then he looked back up at Audrey. "So let's change the subject. Tell me more about yourself; that is, if I haven't scared you away yet."
| | | |
| --- | --- | --- |
| | | |
Kaylyn


SimsHost Champion



Joined: 06 May 2006
Posts: 582
Location: Shreveport/Bossier, Louisiana
Posted: Fri May 12, 2006 10:38 pm

| | | |
| --- | --- | --- |
| | | |
Over more small talk, they each came to the same two conclusions. One: even though they didn't actually have all that much in common, they had similar goals in life. Pierce talked about the plans Sylvia and he had laid out about getting married after college and raising a family, and Audrey mentioned that she had been an only child and wanted to have a huge family of her own. "Six kids!" she exclaimed. "At least!"
Two: each one was quickly falling for the other.
Pierce insisted on paying their bill, even though Audrey had offered to cover it. They stood at the same time, and then Pierce had an uncontrollable desire to kiss her. At the same time he was reaching for her, his mind brought forth the image of Sylvia again. This time, he forced it away, taking Audrey's advice about living in the present.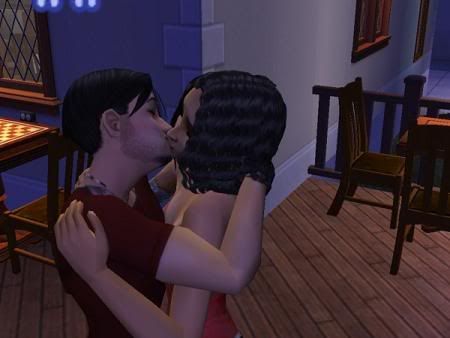 As his lips touched hers, she jumped a little, startled at his boldness. Then she closed her eyes, wrapped her arms around his neck, and returned the kiss. When he pulled away from her, she blushed and looked down at her feet. "Wow," she said. "I'm not usually like this. But I did enjoy spending time with you. I hope we can do this again sometime."
"Me, too," he whispered.
They walked out to the curb and hailed a cab together. Audrey rode with Pierce until the cab dropped him off at his lot. He said goodbye to her and then proceeded to set up camp and get some rest.
Pierce found it hard to sleep that night. This wasn't due to discomfort, for he had been camping under the stars many times before, but to the fact that he couldn't get Audrey out of his head. He still remembered Sylvia and still had feelings for her, but she was in his past and Audrey was in the present. Eventually he managed to drift off to sleep.
As soon as morning dawned, the bright light of the sun woke him up. The first thing that caught his eye was a huge bouquet of red roses sitting next to his head. The card attached had nothing except a phone number. Immediately he knew it was Audrey's. She must have sneaked back to his lot during the night to drop this memento off. His heart quivered at the thought of her standing right there next to him while he slept. He swore he could still smell her perfume in the crisp morning air.
Looking closer, Pierce noticed something unusual in the middle of the bouquet. It was a cheap little prepaid cell phone. Pierce wasted no time in powering it on and dialing the number on the card.
"Hello?" her breathy voice answered.
"Thanks for the roses," he said. He heard her giggle on the other end. "How hard would it be to talk you into playing hooky and coming over for a little visit? I need to see you again."
"Lucky you. I'm off today. Give me ten minutes," she said, and hung up the phone.
His heart leapt when he saw her strolling down the sidewalk. He tried to lean casually against the mailbox, but it was just a little too high to pull off a suave look. When she finally reached him he wrapped both arms around her and pulled her into a tight embrace. Everything about this felt so incredibly right. He ran his fingers through her hair and inhaled her fragrance. It was like a drug to him.
"Come live with me," he blurted out, then clapped a hand to his mouth in shock at his own words.
Audrey gasped and stepped back. "What? That's insane! You're kidding, right?" She searched his face and saw that despite his reaction upon first asking her, he was quite serious.
"I didn't mean to ask you quite like that...but no, I'm not kidding. I have nothing to offer you. I know you might think I just want you to help me get off my feet here, but I don't know how I can assure you that that is not the case. I know this sounds crazy after only one date, but with everything that's happened to me I have to trust the only thing I have left to trust...my instincts. And they are telling me that I need you in my life." He held his breath as she considered his invitation.
She studied him for a little while, trying to figure out what her own instincts were telling her about this situation. She blinked slowly and said, "I think I know what you're saying. It is insane, but I have to trust my instincts, too. The answer is yes."
| | | |
| --- | --- | --- |
| | | |
Kaylyn


SimsHost Champion



Joined: 06 May 2006
Posts: 582
Location: Shreveport/Bossier, Louisiana
Posted: Fri May 12, 2006 10:45 pm

| | | |
| --- | --- | --- |
| | | |
Audrey immediately set about gathering her belongings and bringing them to her new home, while Pierce, handyman that he was, began the single-handed construction of a small two-room house. Audrey funded the entire project out of her modest savings. They scrimped on most of the basic necessities, but Audrey insisted on the best bed available. "Nothing more important than a restful night's sleep," she said.
They observed their small accommodations with satisfaction when the day was done. Pierce hadn't eaten all day and was exhausted from the hard work. He flopped onto the double bed, intending to relax a bit before supper. "Oh, you were right, this bed was worth it," he said as his muscles immediately began to loosen up.
He closed his eyes, thinking he was going to go right to sleep, but apparently Audrey had other plans.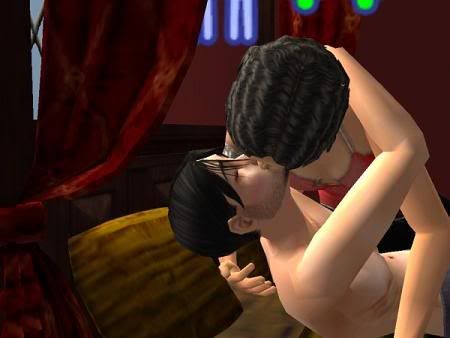 Unfortunately, that particular ordeal took quite a toll on poor Pierce. It had exhausted every ounce of his reserves. As soon as he thought she was finally asleep, he literally crawled out of bed and towards the tiny kitchenette to get something to eat.
He didn't quite make it.
He collapsed onto the floor, completely exhausted and starving, unable to find the energy to take one more breath.
Audrey stirred and opened her eyes; she had merely been dozing.
She sat bolt upright when a ghastly figure in dark robes glided through the wall, pointing a long, bony finger at Pierce. She followed the creature's gaze and screamed when she saw Pierce lying dead on the floor.
"No! Not now!" She catapulted herself out of bed and placed herself between the Reaper and his intended trophy. "I'll do anything!"
The Reaper gazed at her, if you could call it that; no face was visible under the shadow of his cloak. He spoke, and the sound that came from him was not exactly a voice; it seemed as if the surrounding air was attempting to form itself into audible human speech.
"A game, then. I already have his soul in my hand. If you can guess which one, then it is yours for a while longer." He held out two skeletal fists, both of which appeared empty.
Audrey's eyes darted back and forth between each fist frantically. Unable to figure out which hand held the soul, she finally closed her eyes and pointed at random.
(That's it for now. To be continued...don't you hate that?

)
| | | |
| --- | --- | --- |
| | | |
dmchess


SimsHost Champion



Joined: 17 Aug 2005
Posts: 1430
Location: New York, USA
Posted: Sat May 13, 2006 8:39 am

Wow, talk about a flying start! More, more, more!! *8)
Quote:
...his eyes alighted upon a gorgeous woman waiting for a table on the back patio...
Whoa, small world. In Neighborhood One that's Mackenzie Gast (same clothes, same aspiration and lifetime want, different name and job (she's a Business Tycoon)), and she's recently fallen in love with Joe Carr and moved into Casa Townie. I was just thinking of posting that story today, and there she was pleading for the hero's life in yours!
I like the atmosphere of your story so far; sort of The Prisoner flavor...
| | | |
| --- | --- | --- |
| | | |
Kaylyn


SimsHost Champion



Joined: 06 May 2006
Posts: 582
Location: Shreveport/Bossier, Louisiana
Posted: Sat May 13, 2006 9:11 am

Thanks dmchess! This is the first time I've shared anything I've written with anyone other than close friends so I'm elated you like it! Audrey is just a random downtownie but I thought she was gorgeous. Poor Pierce...didn't realize those antics would drain his hunger bar that much. I didn't do it on purpose, honest! And enlighten me, what's The Prisoner?
| | | |
| --- | --- | --- |
| | | |
dmchess


SimsHost Champion



Joined: 17 Aug 2005
Posts: 1430
Location: New York, USA
Posted: Sat May 13, 2006 9:19 am

lunahskye wrote:
Thanks dmchess! This is the first time I've shared anything I've written with anyone other than close friends so I'm elated you like it!
Definitely!
lunahskye wrote:
Poor Pierce...didn't realize those antics would drain his hunger bar that much. I didn't do it on purpose, honest!
Really? Wow! The one time I wanted a Sim to die (so he could be
saved
), it took forever! It didn't occur to me to use woohooing to accellerate the process, though. *8)
lunahskye wrote:
And enlighten me, what's The Prisoner?
The Prisoner
.
| | | |
| --- | --- | --- |
| | | |
miros1


Lone Surviving Sims 1 Holdout



Joined: 05 Sep 2004
Posts: 5348
Location: NY State
Posted: Sat May 13, 2006 2:10 pm

Um, I actually killed Don Lothario that way... I thought the gardner girl was going to take over his house, but suddenly she hopped back in her truck and drove away...

_________________
Rose/Miros
Webmistress, the Wooden Simolean
http://www.woodensimolean.simshost.com
The Wooden Simolean is a SimsHost subscriber supported site
Kaylyn


SimsHost Champion



Joined: 06 May 2006
Posts: 582
Location: Shreveport/Bossier, Louisiana
Posted: Sat May 13, 2006 2:29 pm

LOL I'm sure that's the way Don would have wanted to go!

Nancy




The Spoiled Brat



Joined: 30 Aug 2004
Posts: 1355
Location: Upstate, New York
Posted: Sat May 13, 2006 2:55 pm

Great story, lunahskye! I can't wait to read more!


_________________


Nancy



nanci2121
equinoxx


Super SimsHost Fan



Joined: 05 Mar 2006
Posts: 40
Location: Massachusetts
Posted: Sat May 13, 2006 5:12 pm

Off to a great start... I second the esteemed Mr. Chess in that it has something of a
Prisoner
-esque flavor. Looking forward to future installments!

_________________
SimStories @ equinoxx.net
| | | |
| --- | --- | --- |
| | | |
Kaylyn


SimsHost Champion



Joined: 06 May 2006
Posts: 582
Location: Shreveport/Bossier, Louisiana
Posted: Sun May 14, 2006 11:04 am

| | | |
| --- | --- | --- |
| | | |
The Reaper nodded almost imperceptibly, and with a wave of his hand, he vanished. Audrey collapsed onto the floor next to Pierce and shook him in an attempt to revive him. Finally his chest began to rise and fall again. He grunted and twitched a little, then opened his eyes.
"What happened? I feel awful."
"You nearly died. Actually, I think you DID die. But it's ok now." She helped him get to his feet. He wobbled unsteadily in place, then seemed to regain his balance. He looked at her and then threw his arms around her in gratitude.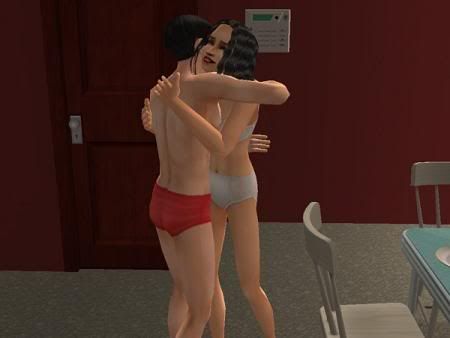 "I remember it now. That was the scariest thing I've ever experienced. Thank you so much for what you did. I owe you everything." Then he collapsed once again, falling to his knees.
Audrey gasped and reached down to help him stand up again when she realized he was, in fact, only on one knee, looking up at her with complete love and devotion.
"You can't save a man's life and expect to get away with it scot-free," Pierce said. "I think I'd better marry you now so I can make sure you'll be around if something like that happens again."
Audrey smiled. "Only if you promise to do the same for me."
After Audrey's enthusiastic acceptance, she had a proposal of her own. "Let's do it today. I have a few friends who can act as witnesses."
"I think that's a good idea. But can we do something else first?"
"And what would that be?" Audrey asked mischievously.
Pierce looked deep in her eyes. "Could we...please get something to eat first?"
| | | |
| --- | --- | --- |
| | | |
Kaylyn


SimsHost Champion



Joined: 06 May 2006
Posts: 582
Location: Shreveport/Bossier, Louisiana
Posted: Sun May 14, 2006 11:07 am

| | | |
| --- | --- | --- |
| | | |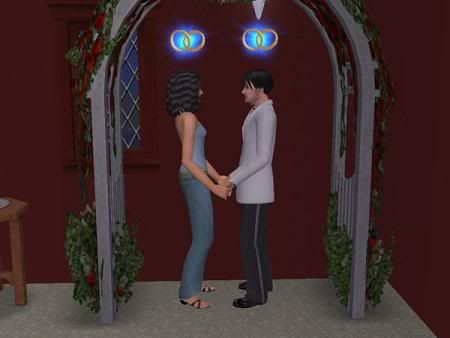 The happy couple had a small, impromptu wedding party. Audrey and Pierce exchanged their own personal vows in their living room.
Pierce took great pleasure in stuffing Audrey's face with wedding cake, perhaps as a reminder to make sure he was well-fed before enticing him with other, more pleasurable, activities.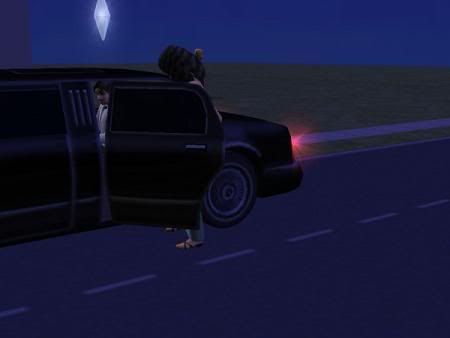 After the festivities, Audrey and Pierce rented a limo. They didn't have enough money left over from the house and the wedding for a full honeymoon, but they rode around the brightly-lit city for a few hours and talked of the future.
They arrived back at home feeling completely refreshed, despite having been up all night, and just in time for Audrey to get ready for work.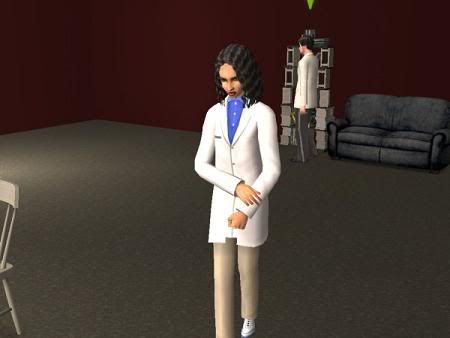 Audrey kissed her new husband goodbye when the carpool arrived. Even though they had just returned from a refreshing, yet brief, honeymoon, she was already feeling a little more tired than she knew she should be. Her thoughts drifted to her seduction of Pierce the day before, and she felt a sudden flutter of nervousness. After all her dreams of having a house full of children...could it be that the first of those was on its way to realization at that very moment? All the way to work, she absentmindedly stroked her flat stomach and found herself hoping...
| | | |
| --- | --- | --- |
| | | |
Kaylyn


SimsHost Champion



Joined: 06 May 2006
Posts: 582
Location: Shreveport/Bossier, Louisiana
Posted: Sun May 14, 2006 11:09 am

| | | |
| --- | --- | --- |
| | | |
As his bride left for work, Pierce was left pondering his own dreams. He was beginning to adjust to his situation in Bellevue and even enjoy it, but that didn't mean he wasn't still angry about being forced out of his prior life. He was still determined to solve the mystery, no matter what it took.
But in the meantime, he needed a sense of normalcy. Though he admired the vast amount of success Audrey enjoyed at the hospital as a well-established surgeon, he didn't feel normal being a stay-at-home husband. Maybe he was a little old-fashioned in that respect. While he had no problems at all with Audrey's career, he wanted to work himself.
He heard a thump outside, and when he peered out the window he saw a youngster clad in yellow with a large satchel walking down the street away from the house. Audrey must have transferred her newspaper subscription to this address. Perfect timing! He retrieved the paper from outside, plopped down on the couch and scoured the classifieds.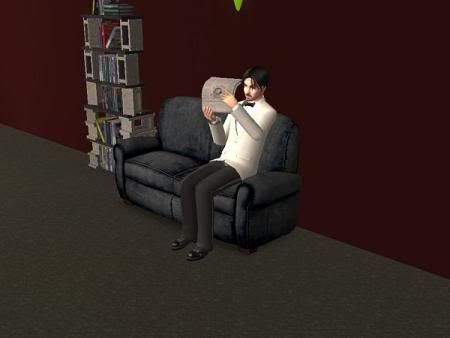 Too many of the jobs listed required a college education. Again he felt anger at his kidnappers. Before being forcibly removed from his home, he had just graduated high school and was on his way to start college with Sylvia that summer. It was something he had been looking forward to for so long, and now it was too late.
He let out a grunt of frustration and threw the paper on the ground, scattering sections of it everywhere. He leaned back and ran his fingers through his hair, attempting to calm himself down. When he looked down at the mess he had made, something caught his eye on one of the pages.
A simple want ad for a low-paying security job. But he didn't see it as that. He saw it as a window to something much greater, something that could one day possibly lead him to the answers he sought. He called the job placement agency and was immediately hired.
| | | |
| --- | --- | --- |
| | | |
Kaylyn


SimsHost Champion



Joined: 06 May 2006
Posts: 582
Location: Shreveport/Bossier, Louisiana
Posted: Sun May 14, 2006 11:10 am

| | | |
| --- | --- | --- |
| | | |
When Audrey arrived home from work that afternoon, she didn't say a word to Pierce, who had been working out. Instead she headed immediately for the bathroom and slammed the door. Concerned, Pierce mopped his sweaty face with a towel and knocked softly at the bathroom door. He heard no answer except the sound of retching.
"Are you ok, honey?" he asked.
"Do I SOUND ok?" she yelled, in between regurgitations.
Not wanting to upset her any more, Pierce cleaned himself up as best as he could and then set about making dinner. It sounded as if anything Audrey had eaten in the past 24 hours was pretty much out of her system, and she would be needing some nutrition if she could keep something down.
As he stirred the spaghetti sauce, he heard the toilet flush and the bathroom door open. "Going to check the mail," she said as she headed out the front door.
"Wait!" Pierce called out, but the sauce chose that exact moment to boil over. Pierce swore and turned down the heat. By the time he got everything under control, she was at the street, and he ran outside.
Her back was to him, and she was leaning with one arm against the mailbox, panting slightly.
"Audrey?"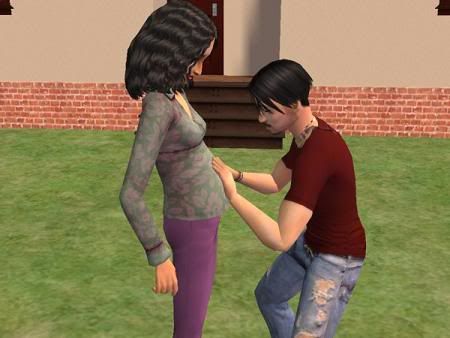 Audrey turned around, and what was ailing her was quite evident. All thoughts of Pierce's new job fled his mind as he fell to his knees and started kissing and rubbing her belly, completely speechless. He wrapped his arms around her waist and rested his chin on the slight curve of her abdomen as looked up at her, smiling. She smiled back and mussed up his hair affectionately.
"Didn't I smell spaghetti inside?"
You cannot post new topics in this forum
You cannot reply to topics in this forum
You cannot edit your posts in this forum
You cannot delete your posts in this forum
You cannot vote in polls in this forum

All times are GMT - 5 Hours
Page 1 of 11