Karen Lund


Sheba's Baby Sister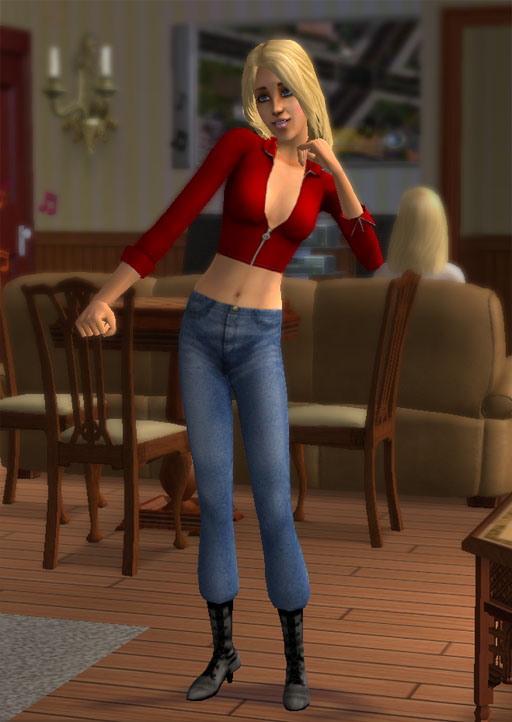 Sheba's Baby Sister, Karen Lund
Click on the image to download Karen. ~489 KB.
Unzip the file Karen_Lund.zip and save N005_00398_Karen_Lund.package in your

SavedSims folder

.
It's OK to rename the .package file if you want.


Warning:

I don't know if Karen will appear in your game in her anatomically detailed skin tone. She also might show up wearing minimal or no undies, jammies, or swimwear. Karen tends to be shy, but not body-conscious. Karen stress-tests more zippers than just the one on her sweater!
She

should

show show up wearing her custom everyday clothes, but if she doesn't and you want that outfit, you can download it here.
She is also wearing custom makeup that might or might not come with the download.
Her eyebrows will turn blonde when you load her into the CAS screen. You can fix them by having her Change Appearance in a mirror.
Here's Karen's outfit again, and this time it comes stuffed with
Karen!
After her cameo performances as a baby in Sheba's story, Karen made her first appearance as a teenager in
Chapter 272: Dream a Little Dream of Karen
in the
Tales of Happy Valley
.
Karen is a teenager, and (obvously, perhaps even emphatically) female. She's a second-generation sim, born in the game to Melvin and Lois Lund.
Note:
Karen should show up in your Create-a-Family screen in the game, as a custom character. She'll also show up in Body Shop.
I've read that custom characters will cause Body Shop to crash and that you should remove them from your SavedSims folder before starting Body Shop, but I've not experienced this myself. It could be that it's the custom clothes they wear, not the characters themselves.
----------
If you want Karen's big sister Sheba, you can download her from a message in the Tales of Happy Valley, Sheba Steps Out.

Karen's ne'er-do-well brother-in-law and Sheba's husband can be download from a message entitled Greg Goes Adventuring.