It took more attempts than usual, but the experiment we mentioned
last time
has progressed.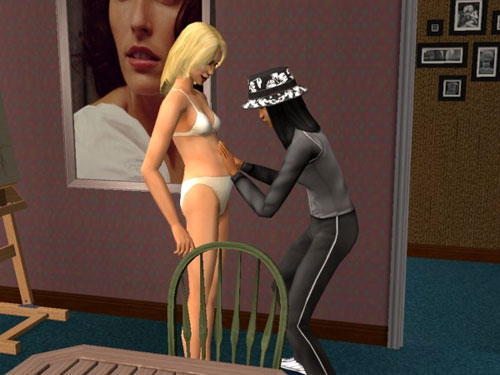 And we can report that Danielle has no problem with Suzette's delicate condition.
She seems quite pleased, in fact.
We were speculating why Maxis didn't put in a jealousy reaction here. My daughter suggests that maybe in male-female couples the idea is that the man thinks the baby is his, and they just didn't think about the female-female case. Or maybe they just didn't think too hard about the whole thing at all... *8)
In any case, Danielle and Suzette are both quite content (being PermaPlatinum and all), and soon we'll have to figure out where to put the kid (we'll probably build a nursery where there's currently a back terrace with exercise equipment; they're both maxed and don't need it anymore).
And I suppose they should have Professor Nolan come by once in awhile, since he has a certain interest in the case!