Hmm... if you plastic surgery and a complete makeover and change her aspiration, is she still Bella Goth?

Now that Nervous has met her, it will be easy for him to make her play. Erm... playable, that is.
As for Bella being a Romance sim, I'm sure that she has learned from her evil ways by now. Of course as every simboy knows, the gal in Strangetown named Bella Goth isn't the one who was married to Mortimer (and
is
married to Mortimer in my game) in Pleasantville.
She's obviously a Bella Goth fan who changed her name and adopted Bella's style in an attempt to emulate the
real
Bella Goth. I'm sure that Nervous can overlook that little quirk as long as she can provide him with the love and respect he longs for.
Which brings us to:
STRANGETOWN ENQUIRER
Chapter 3: Odd Bits About the Oddballs
I've rescued
Olive Specter
from her date with the Grim Reaper. Had her slug down almost two whole bottles of the Elixer of Life. She retired from her job as a Professional Party Guest and is drawing a pension of $300 a day while pursuing her a science career. She just got promoted to head of the science department at Desert View A&M.
Olive moved her son
Nervous Subject
back home where he grew up quite well. After a makeover and a lot of TLC, he's doing much better.
Nervous Subject after his escape from the Beakers.
This was before he met Bella.
Ophelia Nigmos
was last seen with her ankles crossed behind Johnny Smith's back. (Amarilla would be shocked.
Shocked!
But Perry wouldn't print the story anyhow, so there's no use in snooping on them any more.) He's waiting for her to grow up so they can get married. She wants to go to college first. He'll wait. Johnny knows a good thing when he sees it.
If you want to find Ophelia, look under Johnny.
But how will they raise the children?
Pascal Curious
had a daugther whom he named
Pasclina
.
Pascal Curious and his daughter Pasclina
PT9 Smith
and his wife
Jenny Smith
visited Dr. Tolad's Rejuvenation Clinic and went to college.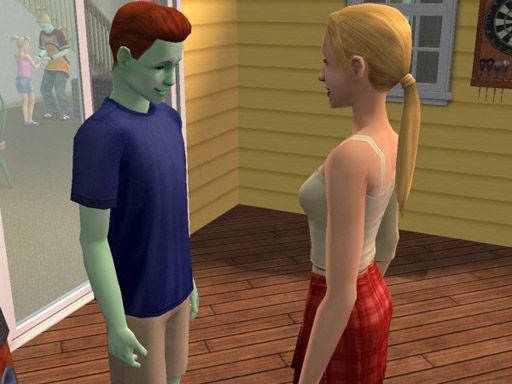 PT9 and Jenny went to college.
Red hair and green skin. Mabye he's Scots-Irish.
Back from college, Jenny is still hanging on to her young adulthood. PT9 grew up and is well on his way to becoming an astronaut.
Jenny and PT9 spend a lot of time talking about space travel.
We might surmise that Jenny is clinging to her young adult status even after graduating and moving back to town because she enjoys her youthful bod. Some evidence of this can be seen in how she dresses when she is having breakfast alone with her husband.
I'm sure you won't be surprised to learn that Jenny is pregnant again.