DEATH BY CHOCOLATE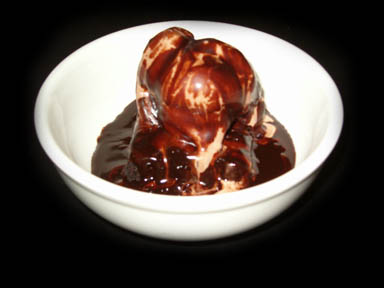 Bake some double-fudge chocolate brownies.
Place 12 pieces of Dove dark chocolate into a microwave-safe container. (A small jar works well for this.)
Add 1/2 stick of butter. (That's
real
butter, not margarine!)
Add about 2 ounces of Hershey's Chocolate Syrup.
Microwave for 1 minute at 50% power.
Remove from microwave. Add a drop of
real
vanilla extract.
Beat up the resultant mess with a spoon to make a thick, smooth fudge.
Place a double-fudge chocolate brownie in a chilled, chocolate-proof bowl.
Reverently cradle a large scoop of Haagen-Dazs Chocolate Ice Cream on top of the brownie. (No other brand of ice cream can stand up to this recipe.)
Drown the ice cream and the brownie in the hot fudge.
The purist will refrain from adding whipped cream, maraschino cherries, crushed walnuts, or other non-chocolate impurities to this magnificent creation; but if you must, then go for it!
Enjoy!