Inga's Pink Shorts and Matching Tank Top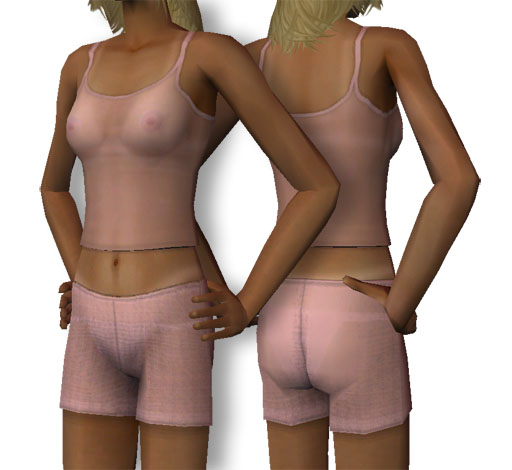 Inga's Sheer Knit Shorts and Tank Top
SimsHost subscribers can download this outfit by clicking on the image. About 110 K.
The zip archive includes the pink shorts and tank top as separate clothing items.


Warning:

These articles are as sheer as they appear. Your sim will show through.
Unzip the contents of the archive 'psaf_shorts_top_pink.zip' to your Downloads or SavedSims folder.
One day, one of the girls at the dorm remarked, "You'd look pretty in pink, Inga!"
So Inga headed on down to the Boybait Boutique where she picked up this little next-to-nothing ensemble. She found just what she was looking for--a sheer pink version of her favorite shorts and an outrageously flirtatious sheer pink tank that do not leave much room for imagination regarding her tan lines or anything else.
Inga's panties are part of the shorts garment. Tan lines and other things are part of Inga's skin tone; see the threads about Fun With Tan Lines and The Return of Tan Lines.