The Return of Tan Lines
The Uvsoker Family
SimsHost subscribers can download the skin tone by clicking on the image to download from The Pearl.


Warning:

Large download -- 2.5 MB


Caution:

Teen and adult female skins are anatomically correct. (Males are not.)
This skin tone is a variation on Inga's Fun With Tan Lines skin tone.
This is a light skin with a deep tan and tan lines. It can be inherited by children.
Both the bodies and faces are tanned.
Teen, Young Adult, and Adult males and females will have the tan in all body shapes. Infants, toddlers, children, and elders will have light skin.
The zip archive contains file 'PSSknLgt_05.Sims2Skin'. Unzip the file to anywhere on your computer and double-click it to install the skin tone.
Introducing the Uvsoker family. Soler and Sunny Uvsoker have two teenagers named Sonny and Sonja and two younger ones named Bronze and Soleil. They are are less careful with sun block than
Inga Thonsdotter
so their tans extend to their necks and faces.
As you can see, they teach their children the wonders of advanced skin aging and skin cancer early in their lives. The children won't develop the look of tanned skin until they reach their teen years.
Sunny and Sonja's skins include the naughty bits. Soler and Sonny do not, and the tan lines don't show under most of the male clothing, but at least you can admire their lily white buns in the shower.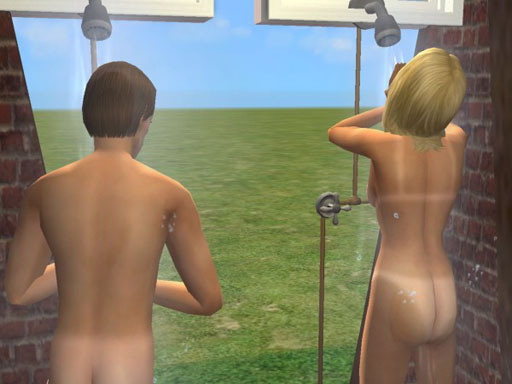 Cleanliness is Next to Tanliness
Sunny and Inga must have bought their bikinis at the same store.
Since guys tend to have shorter hair, I extended the tan on the male skins to the skull. The guys also have a very slight sun burn. The ladies' longer and more dense hair tends to shield the skull from the sun so the tan only appears on their faces and lighter skin will show with some hair styles.
Sunny's Makeup Tends to Exaggerate Her Tan
Both the males and females usually wear sunglasses while they're out in the bright daylight so they have lighter skin around their eyes. Sunny often wears a hat which is only marginally successfully in shielding her face from the sun.
Both Soler and Sunny are game-generated characters. (For once, the game generated attractive sims!) The four kids are all their real children and they did pass on their tan genes to their offspring.
Sunny is wearing the red lace bustier from
Wilhemina's Sexy Top Collection
. Everybody else is just wearing clothing from the Maxoid Boutique.