Fun With Tan Lines, Addendum
In actual game play, I've learned that this will require editing both the head and body textures. As it is, it looks like Inga put too much sun block on her neck and shoulders.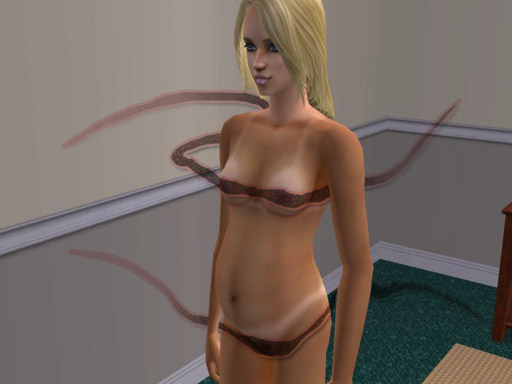 Inga needs to be more careful with sun block.
Here's Inga again, in the 3rd trimester of pregnancy, playing with her friends, the Ingaphilic Censor Snakes. She just aced her 1st semester Sophomore finals (majoring in Literature). She's living on campus in the dorm and in the third trimester of pregnancy. (A not-infrequent hazard to college co-eds, but Inga will not allow this to deter her from pursuing her Bachelor of Arts degree!)
I need to do some more work on this skin tone because I don't like the way her neck turned out. I was trying to avoid extending the tan onto her neck because that means editing the head textures as well.
Teens, Young Adults, and Adults use sundry combinations of the teen and adult body textures, which means I need to edit ALL the head and body textures for teen and adult females. The trickiest part will be getting the joint between the head and body, which occurs in the middle of the neck, to match up seamlessly.
On the other hand, I did have some success with another feature I was going for.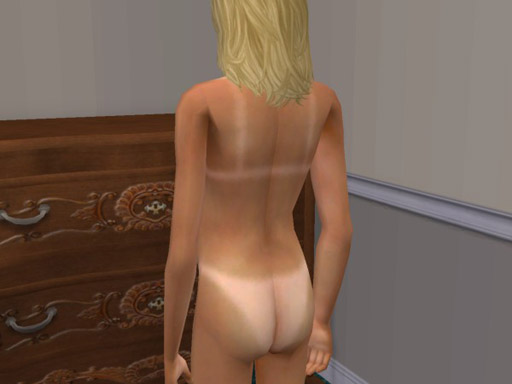 The inside of her arms and her hands rarely see the sun
I like the way the inside of her arms and her hands turned out. I faded out the tan from that area because, unless they are obsessive about getting an even tan, people don't usually expose those parts of the body to direct sunlight while tanning on the beach.
The subtle texture does show up somewhat in the game, about what you'd expect in a live human. To some extent it's lost in the reduction in graphical quality that you get in the game, but close examination shows just enough of little blue veins (especially in the untanned areas) and enough variation in the skin tone to be convincing.
After all that, I think I'll leave this skin tone as it is in the download and create a separate file for the next version. I'm thinking someone might like to have a character who got carried away with slathering on the sun block. After playing with Inga for a while I've become rather fond of her, and the unplanned light areas on her neck and shoulders have become an interesting part of her personality. After all, a gal from northern Minnesota might not be an expert at competition suntanning!
Or, obviously, at contraception.
Oh well. Inga wanted to experience young adult life to the fullest, and she certainly doing that!