Tales of Happy Valley
Chapter 278: Flavia
'Gosh, that kid behind the counter looks familiar!' she thought. 'I wonder what he's grinning about.'
George had some help ringing up her purchase.
The woman helping the kid ring up the sale looked worried. "That's right, George. Department six is women's shoes. But-- oh my, I didn't mean to leave that pair out for display."
"Is something wrong with them, ma'am?" Lucy asked.
"Oh, no, not at all! It's just that, well, you see, our best customer has been eyeing them every time She comes in. I know She wants them but She just hasn't reached the buying point yet. I just hate to disappoint our best customer."
"Could it be that I heard a capital 'S' when you said '
She
'," Lucy asked.
The kid interrupted. "There's nothing to worry about," he said. "Do you know who this is, Flavia?"
"Um, no--"
"It's Lucy! Lucy Hanby! Sheba's maid!"
Lucy looked more closely at him. "George! It
is
you! What the heck are you doing in Boveena?"
"Just trying to pick up some extra money for my college fund," he said. "These are for
Her
, right?"
"Yes, but it's a surprise."
"Mum's the word, ma'am! And Lucy, this is Flavia Cobbler, my boss."
Flavia came around the counter to greet her.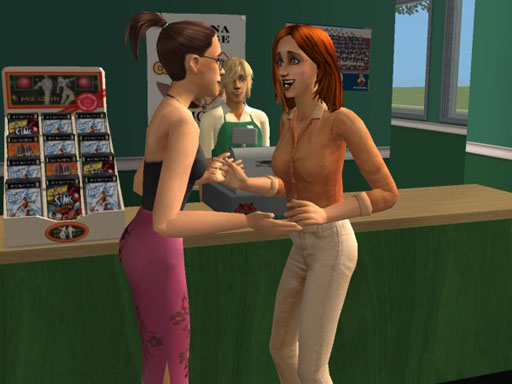 "You really know what your boss likes!"
"I'm impressed," Flavia said. "You couldn't have made a better choice! You really know what your boss likes!"
Lucy laughed. "I've known Her since she was a baby. I was Her mother's maid and followed Sheba all the while She was growing up."
"Wow! You don't look nearly that old! What's your secret?"
"A glass of elixir every day for more than a century will do it!" Lucy said. "And I visited Dr. Tolad just before I went to college."
"Tell me more about this Dr. Tolad!"
"Hoooweee! I'll have to get to know this Dr. Tolad! Where's his office?"
George muttered something about "girl talk."
"Downtown Happy Valley, around the corner from the Orpheum."
"Oh, I know that place! You just head south across the bridge and down past Bonnyview Shores, right?"
"Yup, that's it! Come in on Happy Valley Road and turn right at Main Street."