I'm glad you like it!

Yeah, I think the stair trick and laying out the perimeter with walls are two most significant features of my approach to basements.
Here's another one. I wanted to build a house on a severely sloping lot, so
part
of the first floor had to be buried while part of it could be regular exterior walls.
Andrea Hogan's House
You've probably met Andrea Hogan. She shows up in all my neighborhoods as an NPC in the police career. She's very, very nice but her activity level is near zero and she has the Fortune aspiration; so what the heck is she doing in the cop track?
I'm playing this one in my Lake Dorothy neighborhood, where I don't use any money cheats at all. So at this point Andrea could only afford the basement level of her house. (I do allow myself cheats to correct major deficiencies in the game. In Andrea's case I boosted her activity and changed her aspiration to Knowlege so she'd be happier in law enforcement. The alternative would have been to change her career to Business.)
About 40% of the first floor is normal walls
I used much the same technique to build this one, but instead of laying out the perimeter walls, I did this:
1. Decide on the location of the level floor for the foundation and run the sidewalk up to it.
2. Run a wall into the hill to define a level line for the second floor.
3. Fiddle with little blocks of foundation until I found the exactly level on the hill that lines up with the top of the first-floor wall.
4. Build the perimeter of the house with foundations, not walls.
5. Flatten the floor up to the inner edge of the foundation.
6. Finish up the downslope part of the house with regular walls.
Now I just
gotta
show you this.
Andrea's Reaction to Seeing Her House For the First Time
When I went into Play mode, Andrea looked up at her house and then this big grin spread across her face! She really likes it! I've never had this happen before; usually the sims just walk around and obsess about the furniture.
(Obviously I also did a major makeover for Andrea. I think the makeup brings out her exotic beauty, though the eye shadow needs some work. It's not right for her bright green eyes. Her tank top is too sheer, too, but what the heck -- she looks really cute in it and sims live by their own rules!)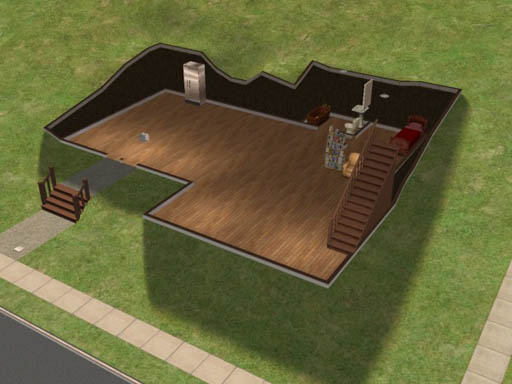 Andrea's House, First Floor Cutaway
Here you can see where the foundation ends and the normal walls begin. I did
not
do 'boolprop constrainfloorelevation false' so the walls leveled the slope as I built them.
Afterwards I used the shovel tool to make the slope more gentle in places, especially between the house and the street.