Just to log my adventure with this so far: I found that Cherry Perry has a lot more BHAV functions than the two normal characters that I compared her to.
Since I'm trying to rescue poor Cherry from her antisocial neuroses, I thought you might be amused to see what she looks like and know a little more about her bizarre story.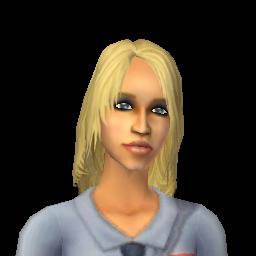 Cherry Perry
I used SimPe to extract that image from the character file. It looks like she's wearing a mailman's outfit but she started out wearing the tan polo top and brown slacks that drivers and pilots wear.
Cherry started life as an NPC Type 5. I'm guessing that Type 5 is a driver, but haven't confirmed it yet.
Originally she appeared as a guest, brought in with the teleporter painting. After a couple of visits, one of my /s/e/x/u/a/l/ /p/r/e/d/a/t/o/r/ Romance sims, Vyn Midlock, became best friends and wanted to fall in love with her. (Vyn is a teen generated by the
Tombstone of Life and Death
who seems obsessed with seducing other teenage girls.)
No other sim could not initiate any interactions with Cherry, so Vyn was stuck just wanting her. Meanwhile, Cherry was swooning all over Vyn but wouldn't take their relationship to the next level.
Cherry Swooning Over Vyn Midlock
To solve that dilemma, I imported Cherry into the household so that Cherry could initiate interactions that would lead to falling in love. I'm pretty sure I used the
Tombstone of Life and Death
to do this, rather than editing the character in SimPE.
Cherry came in wearing an adult body but was classified as a teenager. I'm not sure whether the game did that or if I made a goof in SimPE while tuning up her skills to match her age.
That was a strange experience itself. When the time came for her to change into the private school uniform, she couldn't find one on the rack that matched her adult body; so she went to school naked. (Cherry must have been very popular at school!)
Cherry's School Uniform
When I had Cherry go to the chest of drawers and plan her everyday outfit, the options that showed up were all of the NPC career skins!
I used the TOLAD to accelerate her aging to adulthood with "Age Transistion Cinematic" with hopes that the game might make her more playable. That didn't work. That's when Cherry first started wearing the mailman uniform. (I think that image gets updated only when you use the mirror to Change Appearance and Cherry's changed when I adjusted her makeup. Changing clothes doesn't do it. So some of my other characters are now adults but SimPE shows an image of a toddler.)
Adult Cherry Aspires to Carry the Mail
I don't think she had a last name before she got married to another TOLAD-generated character named Bruce Perry. That's how she got the horrible moniker, Cherry Perry.
Cherry Get to Know Bruce while Vyn Midlock Goes After Yet Another NPC Teen
So at this moment, Bruce Perry has a beautiful, wonderful wife that he totally ignores unless she goes to him. He never tries to initiate interactions with her and I can't have him select her to do anything. He is aware of her because he looks at her walking by, but otherwise he acts like she's not there.
In contrast to husbands who treat their wives this way in real life, this doesn't seem to bother Cherry at all -- she can initiate any interaction she wants -- but it's driving Bruce crazy.
I need to learn SimPE a little better before I'll be brave enough to try modifying Cherry's BHAV functions, but it looks like that's what she needs.
Lesson learned:
It's easiest to just not mess with the drivers and pilots. If you like the way they look and act, it might work to clone the appearance of the driver onto a different sim.
But on the other hand, one of the neatest things about The Sims 2 is that
most
of the NPC's are more than inanimate objects so it bugs me that some of there are still just zombies. I'd think that sims would get to know their drivers and pilots pretty well since they spend an hour or so alone with them every day.