Taylor Lake
Chapter 1: The First Family
Just after
Chapter 90 in the Tales of Happy Valley
we discussed how to clone characters in SimPE. Learning a new trick inevitably sparked curiousity in your humble author!
I wondered if it were possible not only to clone a character, but then revert that character to a younger age in the Create-a-Family screen. And indeed, you can! Quite predictably I got carried away with this, and the result was the one family that now lives in the tiny village of Taylor Lake. Even more predictably, the family I chose for this cloning experiment were the ubiquitous Gregsim and
She
.
Introducing the Bennetts of Taylor Lake
The teens are Aaron and Abigail. The children are Barton and Brigid. And the toddlers, Casey and Clark.
Now, since stories happen at arrivals and departures, we must start their tale with their arrival at 1 Lakespur Lane in the wilderness that may some day become Taylor Lake.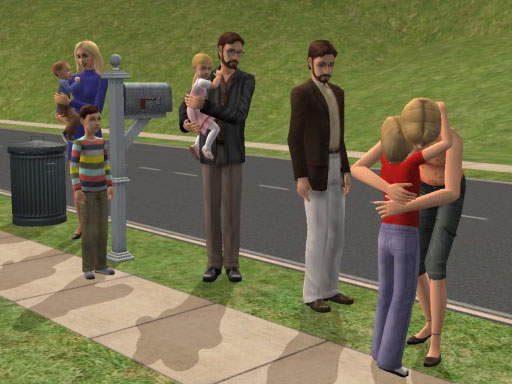 Coming home to a place they'd never been before
Will Greg, Sheba, and their cloned children find happiness in the secluded realms of this high mountain valley?
Will any of the college students ever graduate and move into town, or will the children be destined to grow up with only each other for companionship?
Will the chronicler of their tale finally lose all touch with sanity in his confusion over which Bennett family is which and dedicate his life to repeatedly mumbling mantras from long-forgotten religions?
Will they once again hire Lucy Hanby as their maid?
Only, time, and game play, will tell!