Red River Legacy
Chapter 30: Sheldon's Education
While he was growing up, Sheldon had always been the kid in the back of the room who knew all the answers. He excelled at what he did and didn't do things he didn't excel at. He had an eye for excellence and if he didn't deem something to
be
excellent, he wasn't much interested in it.
He as intensely interested in girls as any teenage boy, but for whatever reason, none of the girls in his high school really appealed to him. Many were certainly decorative, but it took more than looks to really get Sheldon's attention.
Then he met Kitty. He had seen her around the dorm and catalogued her as Definitely Decorative. Then one day she plopped herself down next to him in his study group, clad in a wet bikini. His general impression of Kitty expanded:
Very
Decorative. Art major. Smells like chlorine.
Then she started contributing her views on the Renaissance masters to the study group.
Bingo!
Decorative. Creative. Smart. Informed. Worldly. Hey, chlorine smells pretty good, come to think of it! Especially when the scent is mixed with whatever pheromones Kitty was exuding!
He didn't learn much during that study group, or at least not much about his school work. He did learn that the breathing patterns of a young human female can be very interesting to watch, and seeing a droplet of water run down her curves to disappear into her bikini top can be absolutely fascinating.
Sheldon wanted to get to know Kitty better so he looked for opportunities to share a meal with her at the dorm and to invite her to join his study group. One day in the cafeteria, she asked him to dance with her. He didn't know how well he was dancing or even if he really was. He was only aware of the way she moved. The way her hair flipped about. Her smile. Then, before he knew what he was doing...
Sheldon's First Kiss
Add to data about Kitty:
Really
good kisser. Better than average? Unknown; no comparative data. First approximation: Experienced. Conclusion: Probably not available. Rats!
Then suddenly, an update. Kitty was inviting him to go to her room. Strike the conclusion; leave the solution space open.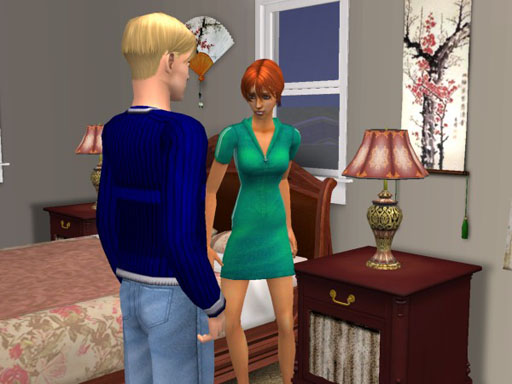 Kitty saw to the rest of Sheldon's education.
"It's time for you to get some serious education," Kitty said.
Am I doing this right?
"Um, like this?" he asked.
Sheldon is a fast learner. As far as Kitty was concerned, he got it right.
Very, very right.