Chess No. 2
(Or... Humoring Connie, Episode 3)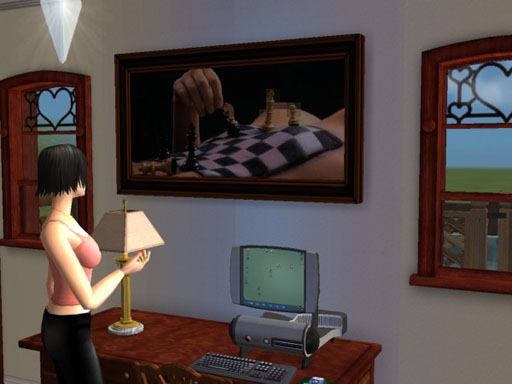 Chess No. 2
SimsHost subscribers can click on the image to download. (Tiny. About 26K.)
Unzip the file and put pspainting_chess_02.package in your Downloads folder a subfolder under Downloads.
The painting will show up as a color variation of the 2-tile Abstract Painting in your wall decorations catalog.


Warning:

The image for display here is censored; the image in the object is not.
Even with her new
Well Wishers Windows in Dark Wood
and Draper's
The Sea Maiden
on her wall, Connie Pearlman still didn't seem to be satisfied with the decorations in her home.
"All these hundred-year-old Victorian paintings are great," she said, "but really, you know, I like my naked ladies a little fresher! Can I have something more modern to over my computer?"
"Oh. Well, I s'pose so. What do you like?"
"You know me! I love to play chess!"
"Hmmm... naked ladies and chess, eh? How 'bout this one?"
"That's it! That's it! Where'd you get it?"
"I have no earthly idea. I'm just the frame shop here."
"There's a lot of hidden drama to this one! It looks like White's queen is going dow--"
"Not now, Connie!"
"Oops."
"Besides, even with the queen sacrifice, white ought to win the game."
"I don't see it. It looks like the model, playing black, is about to move her bishop discover a check on white's king."
"Look closely. The only way that white pawn could be on that square is if it just got promoted to the eighth rank. That leaves black with a rook and a bishop against a knight and queen. She's doomed. The discovered check is just a distraction."
"I'd say she's got lots more distractions going than
that!
"
"Checkmate."