The Sea Maiden
(Or...

Humoring Connie, Episode 2

)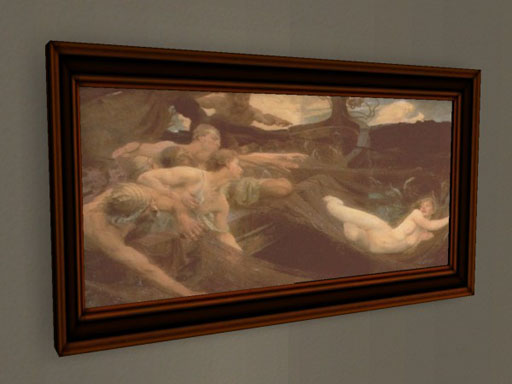 The Sea Maiden by Herbert Draper (1894)
SimsHost subscribers can click on the image to download. (Tiny. About 26K.)
Unzip the file and put pspainting_seamaiden.package in your Downloads folder a subfolder under Downloads.
The painting will show up as a color variation of the 2-tile Abstract Painting in your wall decorations catalog.
I was still trying to placate Connie Pearlman after the
Well Wishers Window
photo shoot, but she seemed to be in a mood.
"Well, if I can't have a new kitchen," she said, "how about some new art for the walls?"
"Sure," I said. "What do you like?" It's very important for a photographer to have a good working relationship with his models, so we do occasionally have to put up with their little ways.
"I really like that painting of
Ulysses and the Sirens
by Herbert Draper, but I'm not too fond of the theme. There's Ulysses roped to the mast while his sailors are trying to get away from the sirens. That's just not me. It seems like their roles should be reversed."
"Oh, you mean one where the siren is in peril and the sailors are happy?"
"Yes! That's it!"
"I have just thing!" I said. "It's another one from Herbert Draper! In fact, it is Draper's first public success. He became an instant hit when he exhibited his painting,
The Sea Maiden
, at the Royal Academy in 1894."
"Oh wow! That's what I wanted! It reminds me of John William Waterhouse's work."
"That's not a surprise. Draper and Waterhouse were neighbors. They both lived in Abbey Road at the turn of the century. The previous turn of the century, that is."
"I love this painting! I can see what's happening next! Those fishermen have been a sea for a long time, and when they get that babe aboard--"
"Um, Connie?"
"Huh?"
"Maybe you should fantasize about the painting in private."
"Mmm, okay."