Just a little addendum to David's note about how to capture images:
If you're not happy with the quality of the images you get, you can adjust that with the "Camera Options." The game's default is low quality, small images; saves disk space.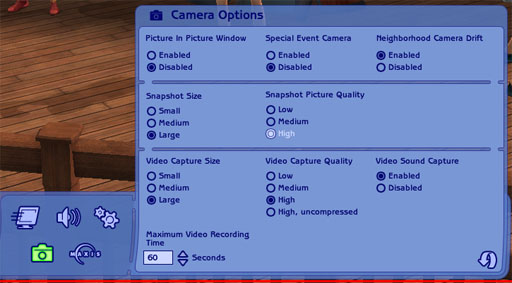 You get to the Camera Options control panel by clicking in the bottom option where you'd normally click to quit the game, but choose the camera instead. (The camera is highlighted in green in the picture above.)
The section of concern here is "Snapshot Size". The largest size is 640x480, I think. That's what I use, but I scale the pictures to 512x384 before posting in the Hullabaloo.
(The screen shot in this message is 512x283 because I just did a screen capture and pasted the whole screen into Photoshop before I cropped it to just show the good stuff. I wasn't trying to be careful about the height of the picture.)
Other Amusing Features of Camera Options
Disabling the "Special Event Camera" turns off the extra animations you get for births and woohoo and stuff like that. Disabling picture-in-picture turns off the little screen that pops up in the lower right corner of your main screen to show sims doing dumb things, burglars arriving, and other amusing events.
The "Video Capture Size" block is fairly self-explanatory. I hardly ever make videos, and I have a fairly fast machine with bags of disk space, so I have that set to the maximum video size and quality.
----------
The feet you see in the background belong to the models for the sports bra & shorts exercise outfits that I just posted in the downloads section. They went back to exercising after a refreshing dip in the pool.