Tales of Happy Valley
Chapter 268: Narcissa at the Bridge
A Brief Synopsis of the Plot So Far
Way back in
Chapter 238: Eyes of the Overlord
, the advent evil overlord Narcissa Sapphos was very unhappy that Sheba was so much more popular than she, and resolved to do something about that.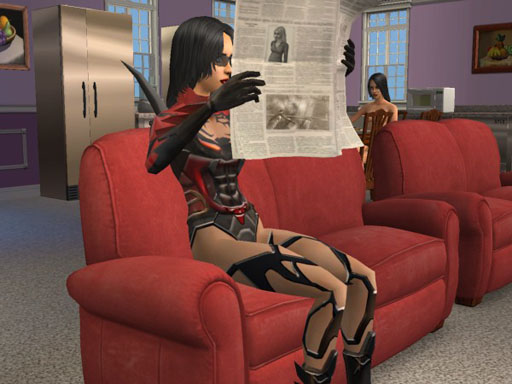 Narcissa wanted to see news about

Narcissa

in the newspaper!
"I tell me, Myself," she said to her alter ego. "Wrecking that bridge will be most effective thing I can do! I'll get lots of publicity and at the same time embarrass the peroxide right out of Shuh-eeee-buhhh!"
"Actually, She doesn't dye her hair. She's a natural blonde."
"Oh yeah? How would
I
know?"
"We went to school together, remember? Gym class."
"Oh, yeah. Well, never mind that! It's time to blow the bridge!"
"Good idea! If you're going to do it, better do it before Lesbia gets home and catches you in that silly costume!"
Having pumped up her nerve and determination, Narcissa threw down the newspaper and ran out to the sidewalk. With a mighty bound she took to the sky, startling both birds and the paper girl.
At first she couldn't control what direction she was going and even had a few dodgy moments when she was rapidly headed toward the ground instead of higher into the sky, but soon enough, she was wafting along through the thin clouds over the mountains northeast of the valley with her hair streaming in the wind and her tongue flicking bugs from her teeth.
Narcissa approaches Boveena Bridge
Clumsy, but on course for her target.
By following the roads over to Bonnyview Shores and then winging out over the ocean to follow the coastline, she found her target, Boveena Bridge.
"There it is, ripe for the wrecking!" she said to herself. "Now I just need to figure how
how
to wreck it! Oh, Narcissa my love, this is going to be glorious!"