Tales of Happy Valley
Chapter 113: Family Council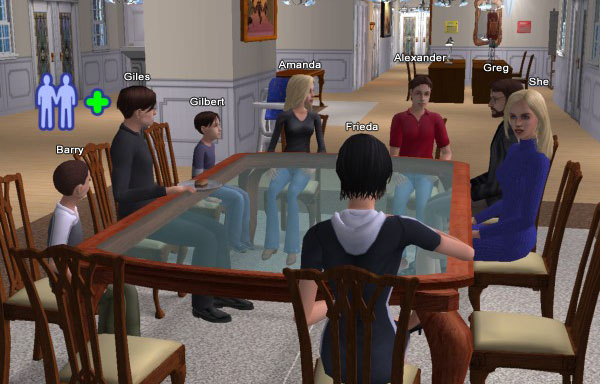 The Bennett Family
"We've been thinking of expanding the family back to Manse Orleans," Frieda said. "Gilbert has reached an age where he his learning more from his father than his mother so I don't think it's as important for me to be here all day, and I would like to have another child."
"I'd really miss you!"
She
replied. "But you're right. I've been wanting to have more children, too."
Alexander cleared his throat. "Well, mom, you see, if you need some more space here, well, Mandy and I have been thinking about going to college. That would give you two more rooms."
"Oh my! If you leave for college, and Giles and Frieda move back to Manse Orleans--"
"It's only a block away!" Giles said.
"--it will be rather quiet around here!"
Barry and Gilbert looked at each other. "Hey! You still have us! Since when have we been quiet?"
"Besides," Greg put in, "you know we'll just fill up the place again! It's what we've been talking about doing ever since we moved back to town! So, how are you two doing on your scholarships?"
"Got 'em all, almost," Amanda said. "There's one for orphans that we don't
want
to qualify for--"
"And I thank you for that!"
"--and then there's the Extraterrestrial Reparations Grant."
"Uh uh, not gonna happen unless you move over to Bonnyview Shores. Keeping the aliens out of Happy Valley is one of Captain Hero's main jobs. We tend to look very harshly on the notion of kidnapping."
"That's good!" Alexander said. "I wasn't much interested in that scholarship for pool hustlers, either. But both of us have won all the academic and athletic scholarships!"
She
laid a hand on her husband's arm. "And they earned them through their own work. No influence."
"Great! In that case, I'll get a check off to the university for them first thing in the morning!" Greg said.
Giles started to clear the last of the dishes from the table, but Frieda waved him back into his chair. "I'll get that, sweetie."
As he sat back down, Giles said, "But, I thought scholarships paid
you
."
Greg looked at his cousin and smiled. "And where do you think they get the money to pay the students?"
Family Council
As she returned to the table, Fieda took a seat beside Sheba. "Well, if you two are sure you're ready for college--"
Alexander in Amanda said, in unison, "We're ready!"
"--then I guess it's not quite so urgent that we move. We might wait at least until Gilbert is a teen."
"But I don't want you to move at all, mom!"
"Oh, I'm sure that by the time you're a teenager you'll have a whole different feeling about that!"